ANGELINE "KELTS" MOLSBERRY FAMILY
Ray (1885) and Angle Molsberry (1885) came to Canada from the U.S.A. in March of 1912. Velva was four years old and Vernon one year old. Vera, Voris and Vance were born at Consort. It might be interesting to note that all of the children's names start with letter "V".
A number of years prior to 1912, Angle's mother and father (Mr. and Mrs. Preston Kelts) and her brother, Homer Kelts and family came to Canada and took adjoining homesteads, ten miles south of Consort. Preston Kelts was in ill health so Ray and Angle came to assist with his care, as Homer Kelts wanted to return to the U.S.A.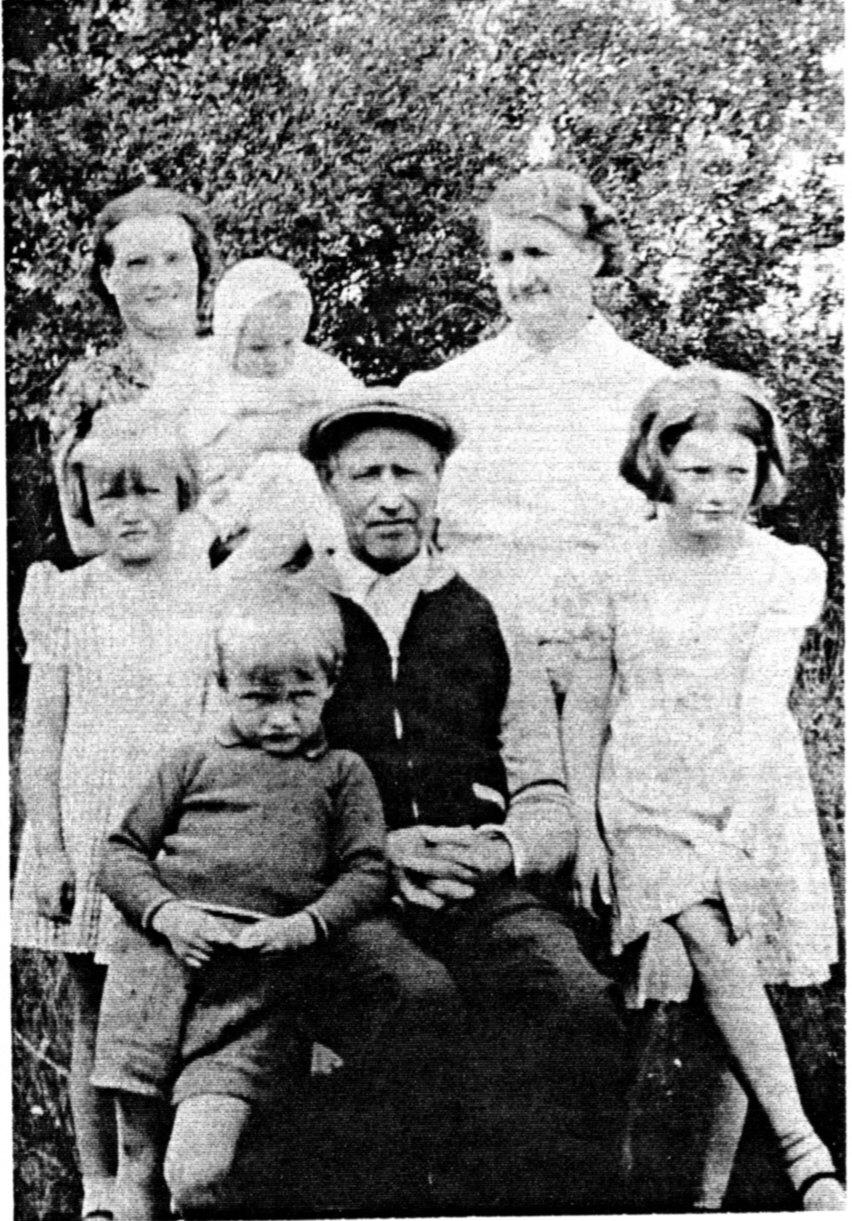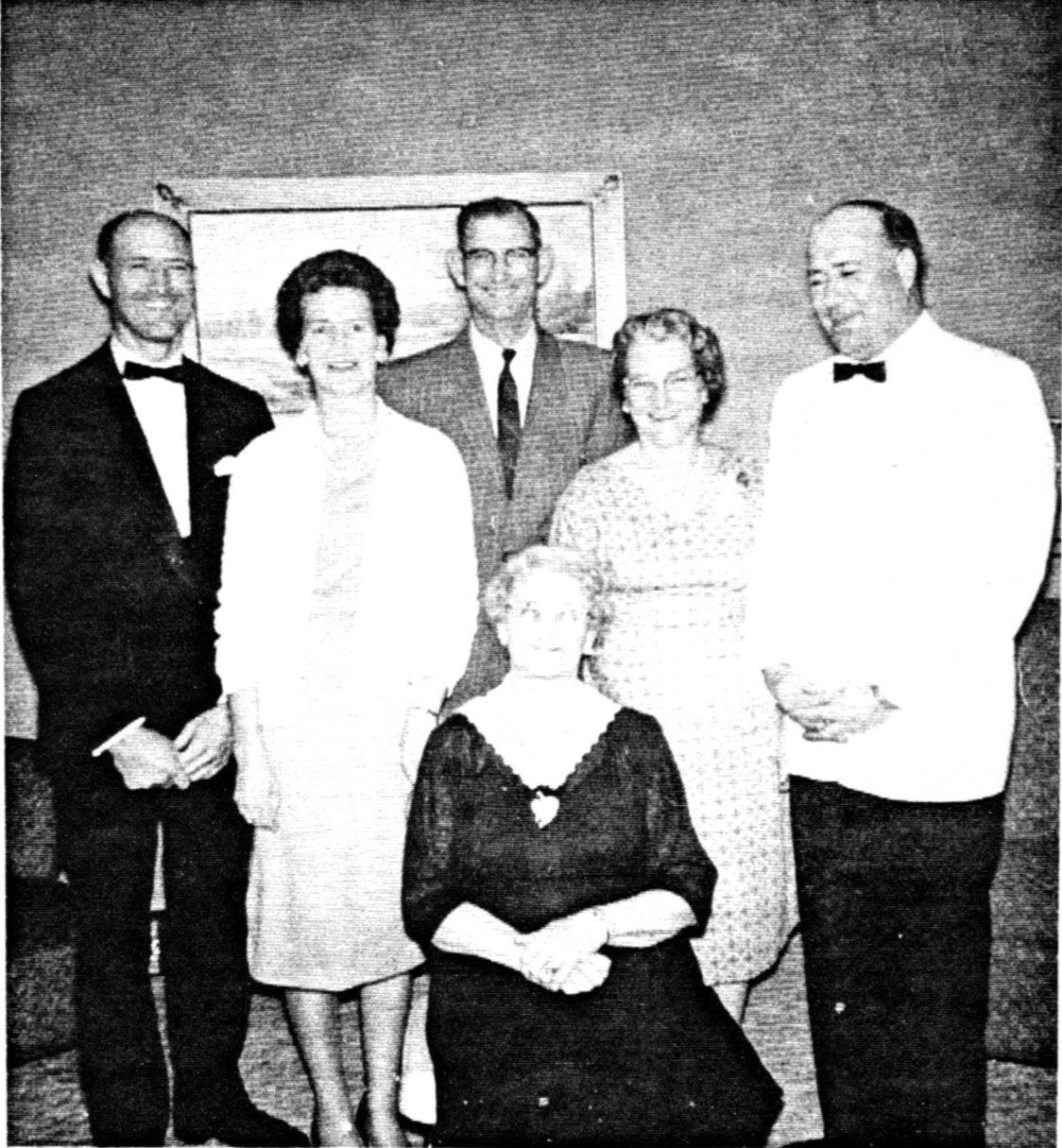 MOLSBERRY FAMILY ANGIE & FAMILY
At that time, Ray farmed the two homesteads. The soil was poor and they always seemed to be short of rain fall, consequently there were poor crops. The main crop was wheat with oats for livestock feed. Cattle, hogs and chickens were raised for the family needs .
Preston Kelts built and lived in a sod house which was not uncommon to do on the prairies at that time. Homer Kelts built a frame house adjoining the sod house in which the Molsberry family lived.
Velva started school in the Willowbrook school house. Her first teacher was another pioneer, and uncle, Albert Redel. A few years later, Westville school was built four miles south and west of their farm. Vernon and Vera started school there. The teacher was a lady by the name of Mrs. Huston. They also attended school for a while at Silverdale.
These school houses were one room, with a pot-bellied stove, usually in the center of the room, for warmth in the winter. There was also a barn for the horses that the children drove or rode to school.
All farming and transportation in the early years was with horses. In the winter and summer, Velva drove herself and Vernon and Vera to school with a large team of horses on a sleigh in the winter and a buggy in the summer. That was a lot of responsibility for a twelve or thirteen year old girl.
Angie started, and was involved with a girls' group, consisting of the Goulds, Campbells, Reids, Jacksons and likely other girls.
In 1922, they moved to Consort to live. Ray was janitor of the four room school, and later also of the bank. In 1925, Ray and Angie bought the confectionery, with living quarters in the back. This building was situated next to, and just south of the Consort Hotel. When the depression arrived in the early 1930's, Angie started serving meals. This then became known as "Molsberry's Restaurant and Confectionery". Both Ray and Angie became quite active in the community affairs. Ray serving as a secretary treasurer of the town for a number of years, and Angie busy in the winter directing home talent shows. She loved to curl.
In 1928, Ray bought the Eber Waite homestead, across the coulee, north of the Willowbrook school. Ray, Vernon and Voris farmed this land for a number of years. Those were the years of drought, depression, black blizzards (consisting of dust) and grasshoppers. Wheat was selling at 25 cents a bushel, if one had any to sell.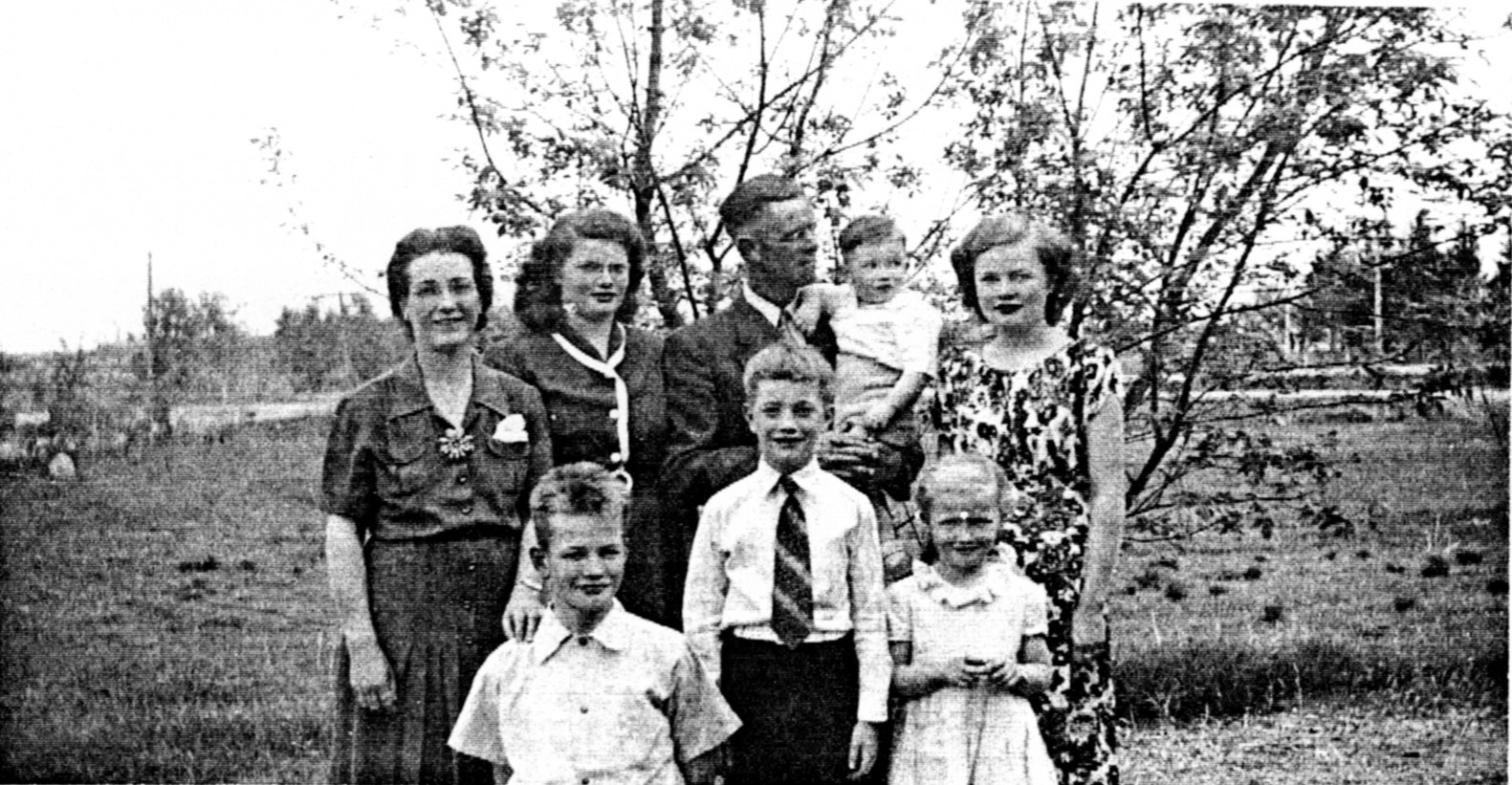 SORTLANDS
In the early fall of 1936, of a disasterous fire destroyed a number businesses on the east side of main street. Molsberry's Confectionery and Restaurant was one that was burned to the ground. Some clothes and a few household items were saved. Accommodation was found in a house at the north part of town. Later that fall in 1936, the family moved to Bowden, Alberta, followed a short time later by Velva (Molsberry) Sortland and family, where they lived for many years.
Ray died on December 1944, Vera in 1965 and Vance in 1970. Angie lived to the grand old age of 94, passing away in February 1980. Velva lives in Innisfail, Alberta, Voris at Leduc, Alberta, and Vernon lived in Surrey, B.C. until passing in 1989.
Angle and Ray had five children: Velva, Vernon, Vera, Voris and Vance.
Velva Molsberry was born September 22, 1907 in North Dakota, she married Chris Sortland (1907). They lived on a farm until moving to Bowden in 1937. Chris worked for The Bowden Nursery. They later moved to Innisfail. Chris died in 1958.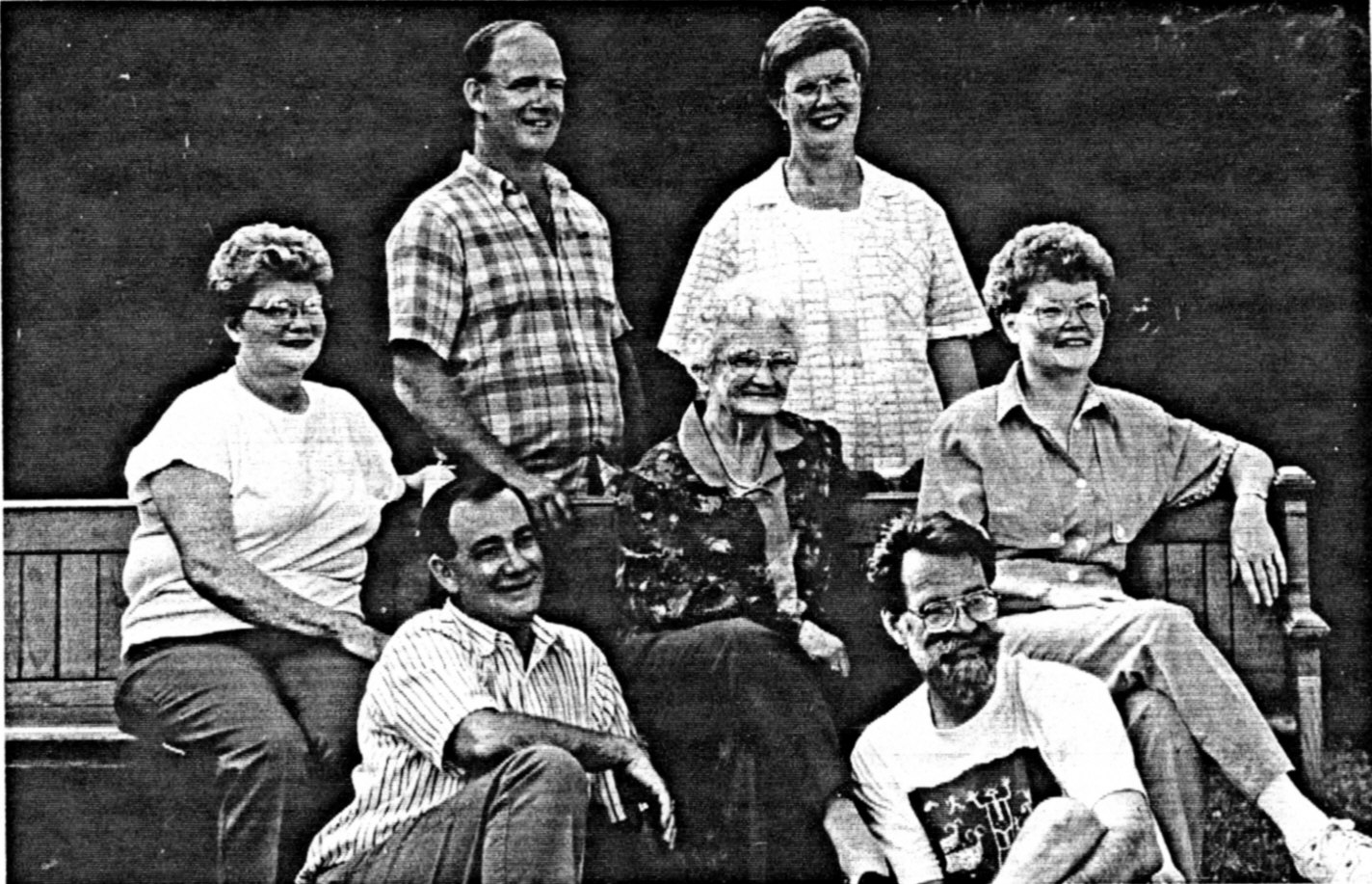 VELVA & FAMILY
They had six children: Gerald "Skip" (1947), Brenda (1944), Floyd (1940), Dale (1936), Lois (1934) and Helen "Marlene" (1933).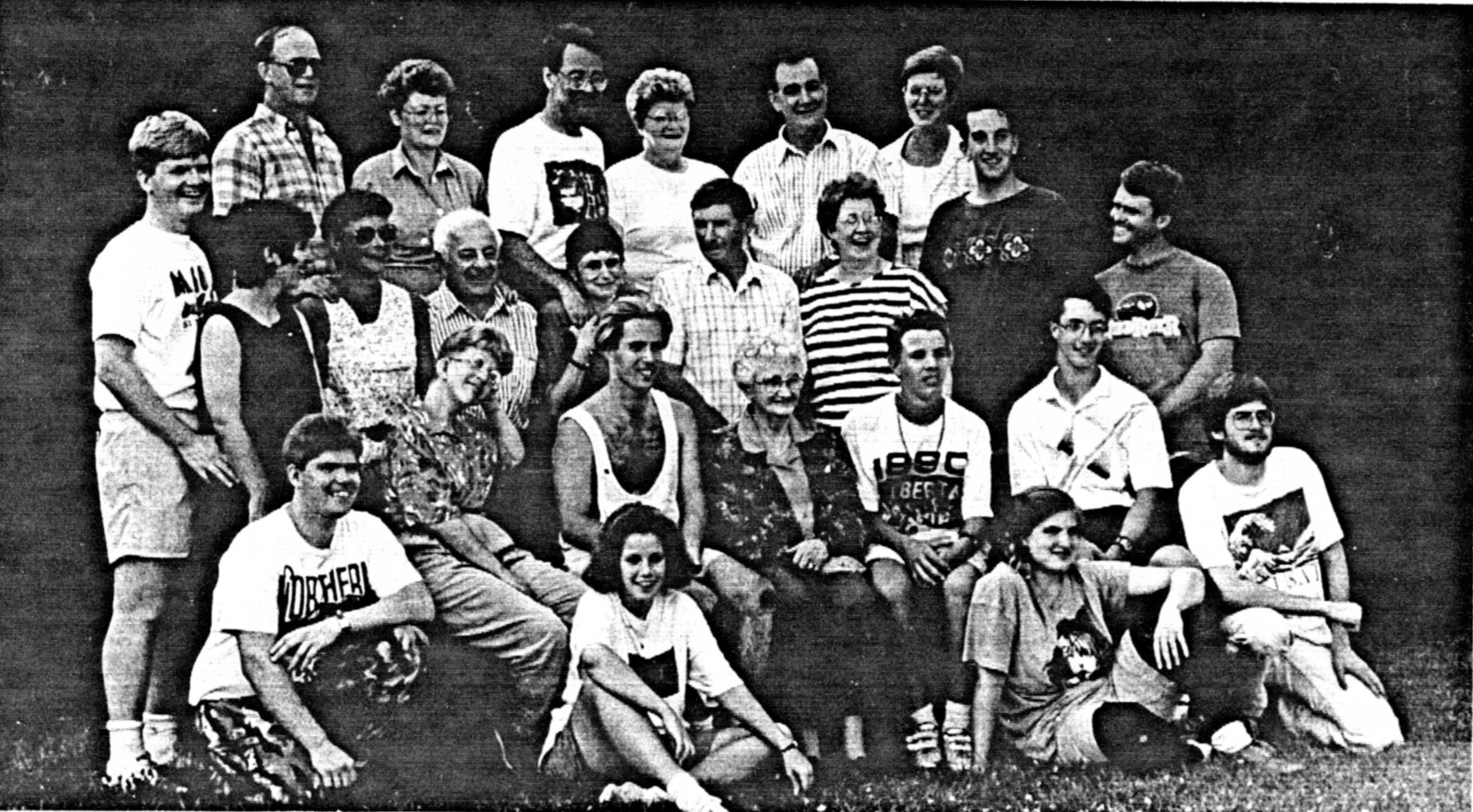 SORTLANDS
Gerald married Sharon Walker and they have two children, Dana and Sean.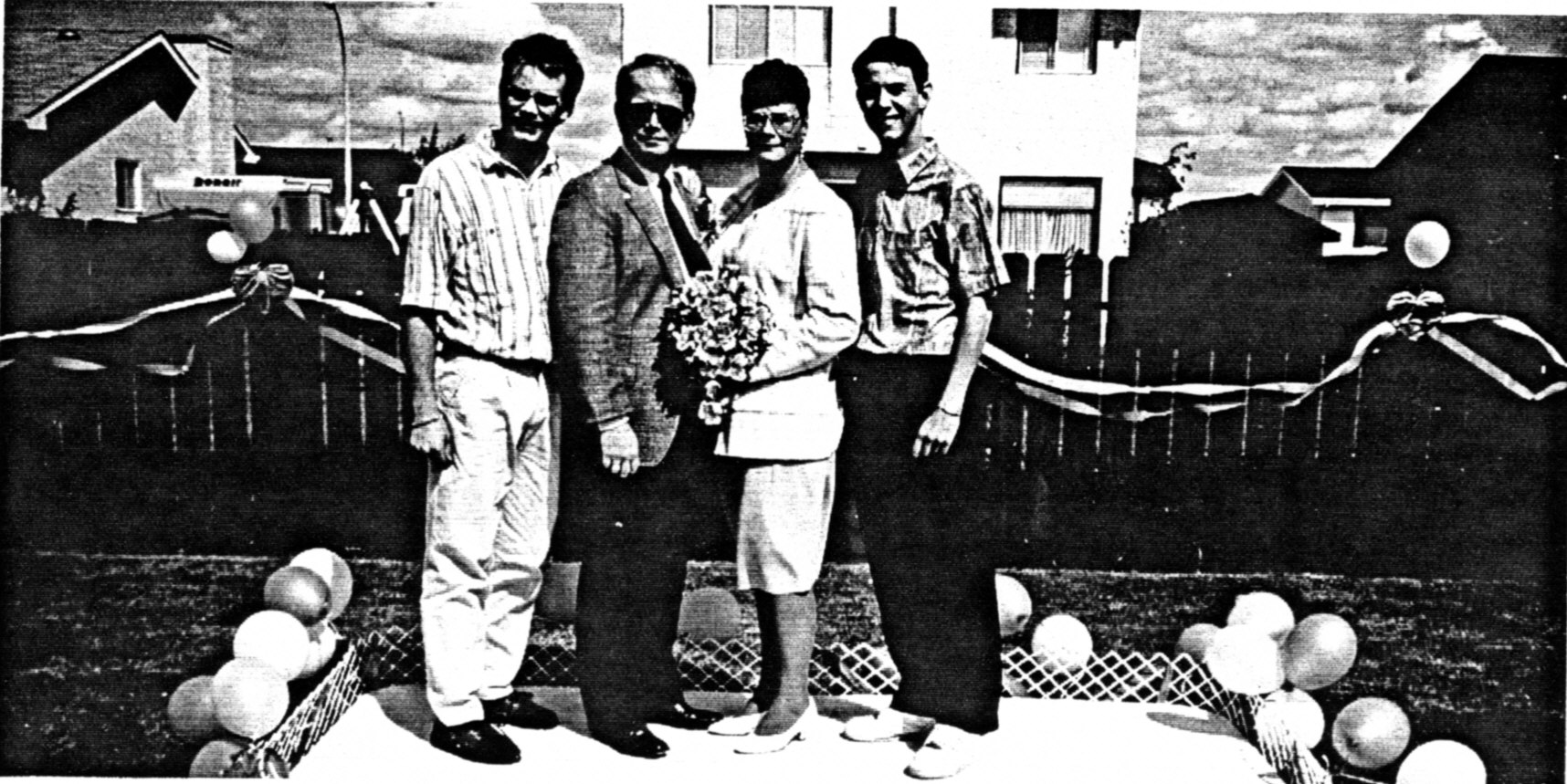 SKIP'S FAMILY
Brenda married Jim Ward and had a family of three: Stephan, Douglas and Dustin. Jim died in 1986.
Floyd and his wife Glenna have two children, Cindy and Christian.
Dale married Deena Zonlite and they have a family of two, Natanya and Stefan.
Lois married Bill Deniff and they have three children: William, Eva and Joan.
Bill operated a service station and tune up shop in Innisfail. Bill had come from Saskatchewan, where his parents had farmed.
Bill Jr. is a mechanic and is presently a student at the University of Alberta.
Eva works in Edmonton in research and data processing.
Joan is married with two daughters, Angle and Krista. They live in Red Deer.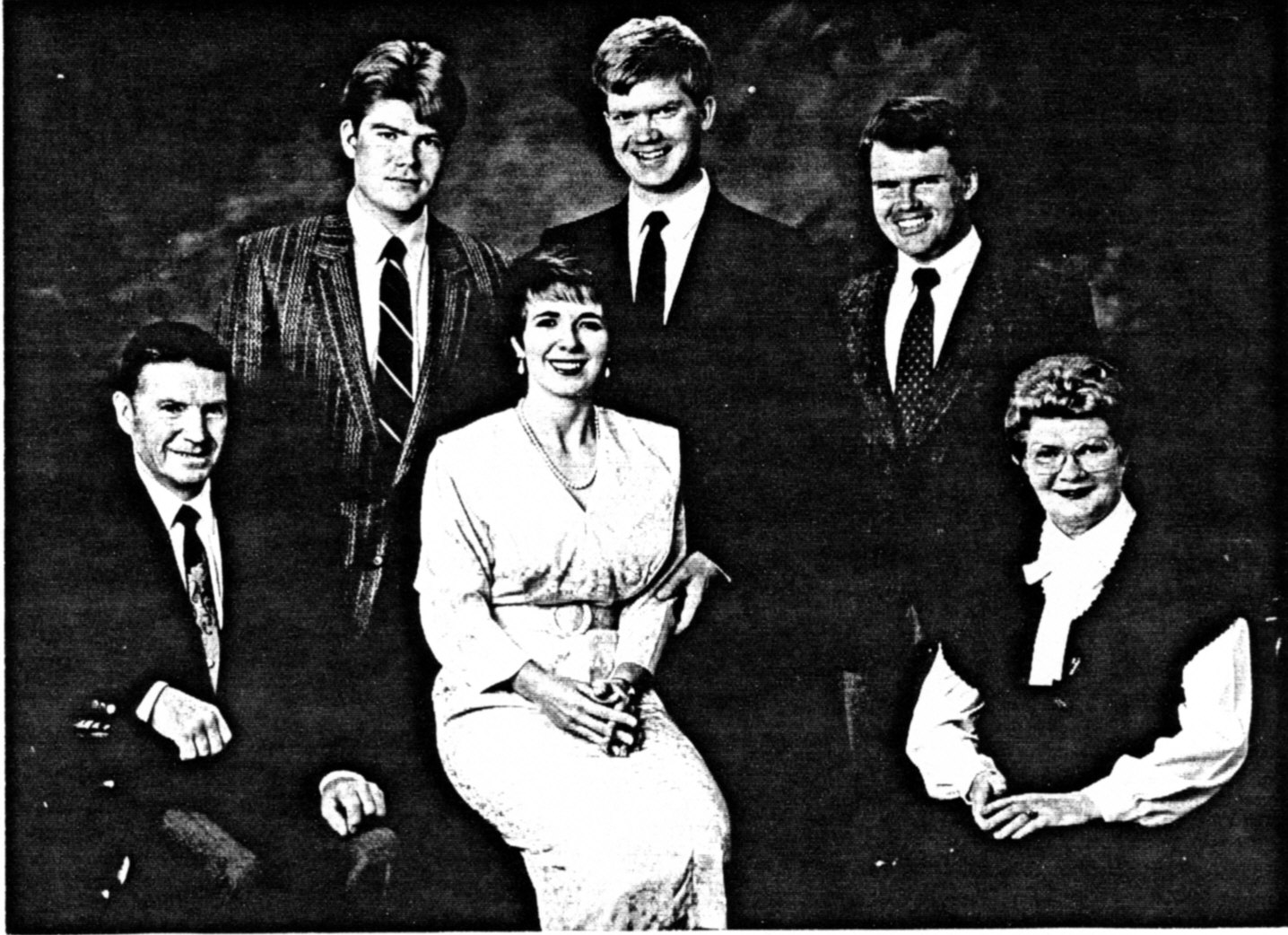 MCTAGGARTS
Helen married Bob McTaggart and they have three sons: Robert, James and Rick. The family lives in Camrose, where Bob operated a sheet metal company before retiring.
Vernon Molsberry was born on April 27, 1911. After his schooling, he worked at the nursery before going to Calgary to take a cabinet making course. He joined the Air Force and became an inspector of air craft. Vernon worked in Edmonton on bus maintenance and later went to Vancouver to do cabinet work. He was a partner in Molsberry Construction. In 1965, he had a heart attack and moved to Victoria; later he retired in Vancouver. Vernon passed away on April 1, 1989.
Vernon and Josephine's "Bauer" (1916) eldest son Blair (1954) works for B.C. Ferries.
Their second son Grant (1956) married Mary Lou Smith and they have three children: Taylor, Joshua and Melissa. Grant is a trucker in Vancouver area.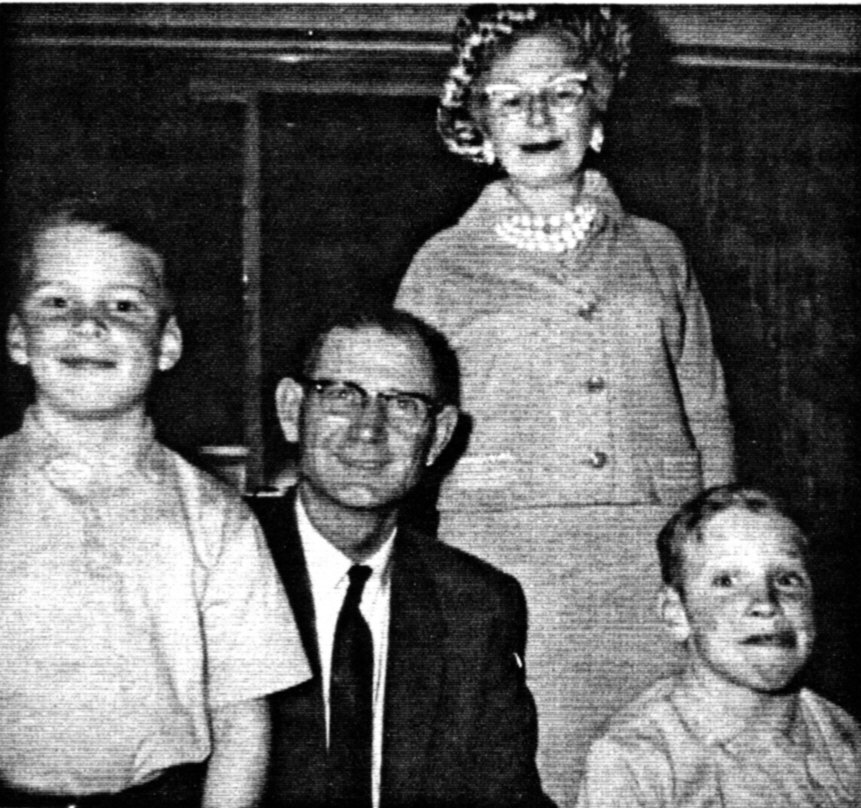 VERNONS FAMILY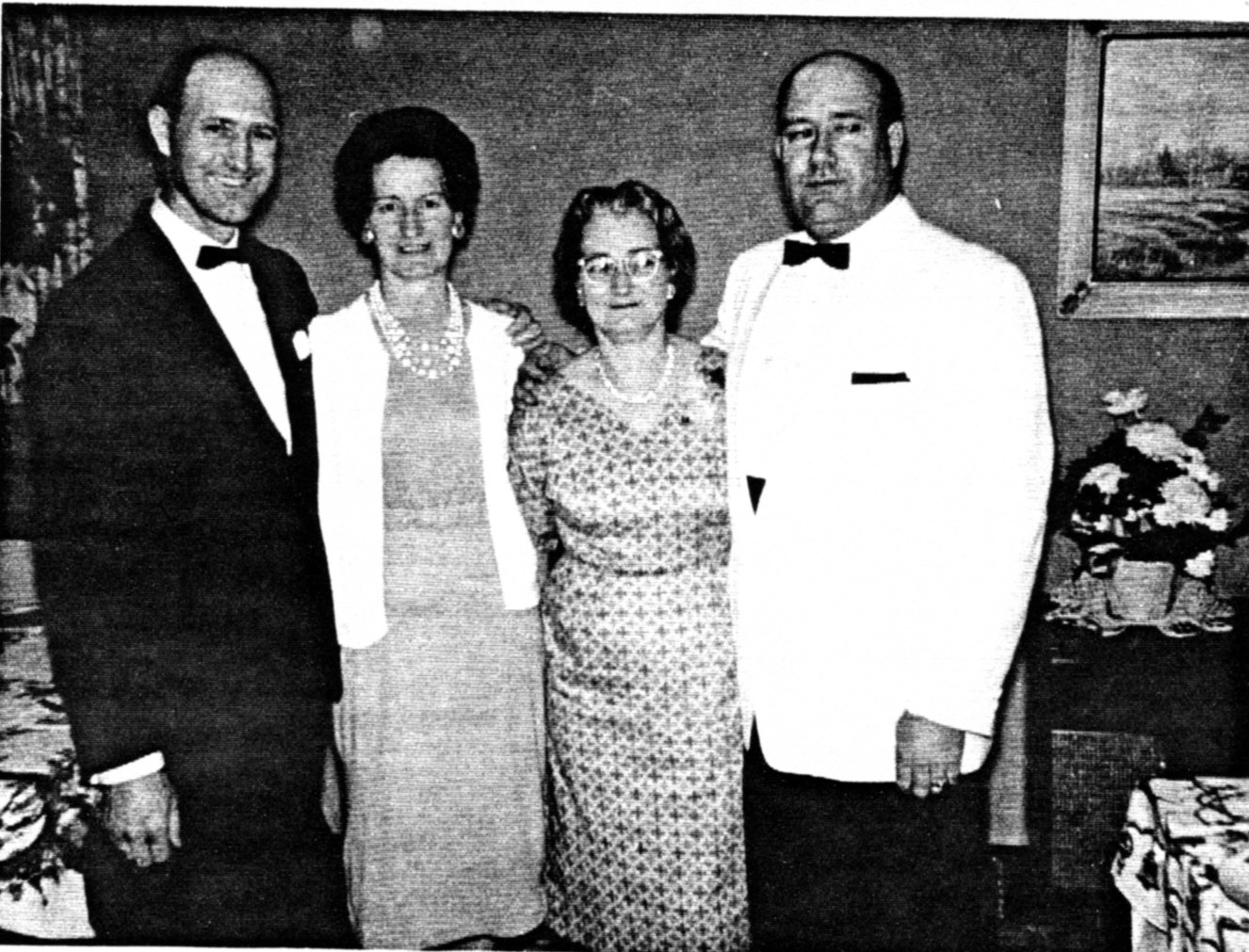 VANCE VERA VELVA VORIS

Vera Molsberry was born on December 19, 1914, attended school in Consort and then went to the Olds College. She worked for Alberta Nurseries and Molsberry Construction, then she took accounting. Vera worked for the Glen Rose hospital until her death from a brain hemorrhage. Vera and her husband, Edwin Walters (1908) had two children, Sherry (1947) and Barry (1944).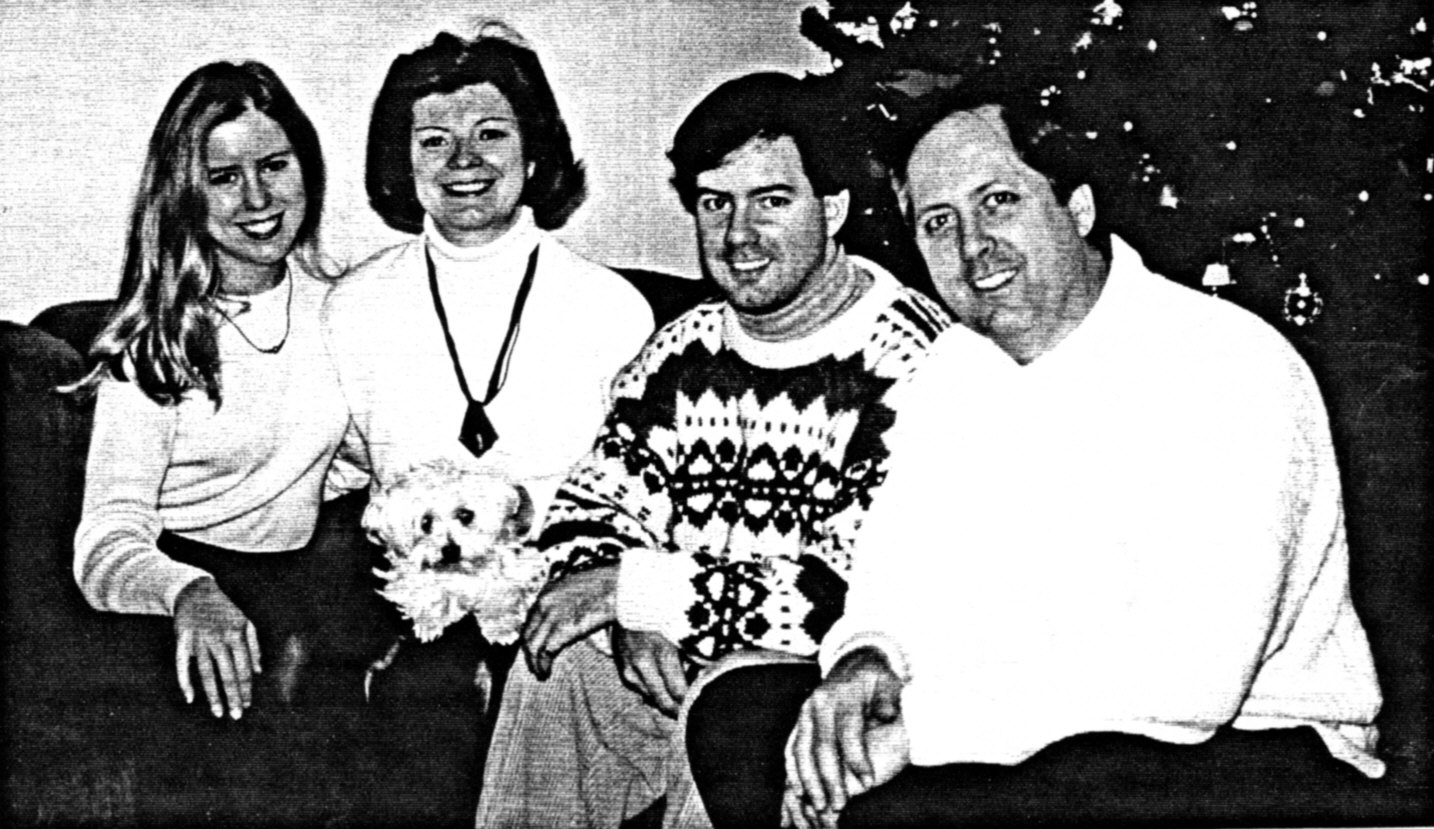 HOLMES
Sherry married Geoff Holmes and they have two children, Michael and Jennifer. Sherry and family live in Winnipeg where she teaches computer science. Barry married Linda Peterson and they have two children, Donney and Kathy. They live in Millet, Alberta.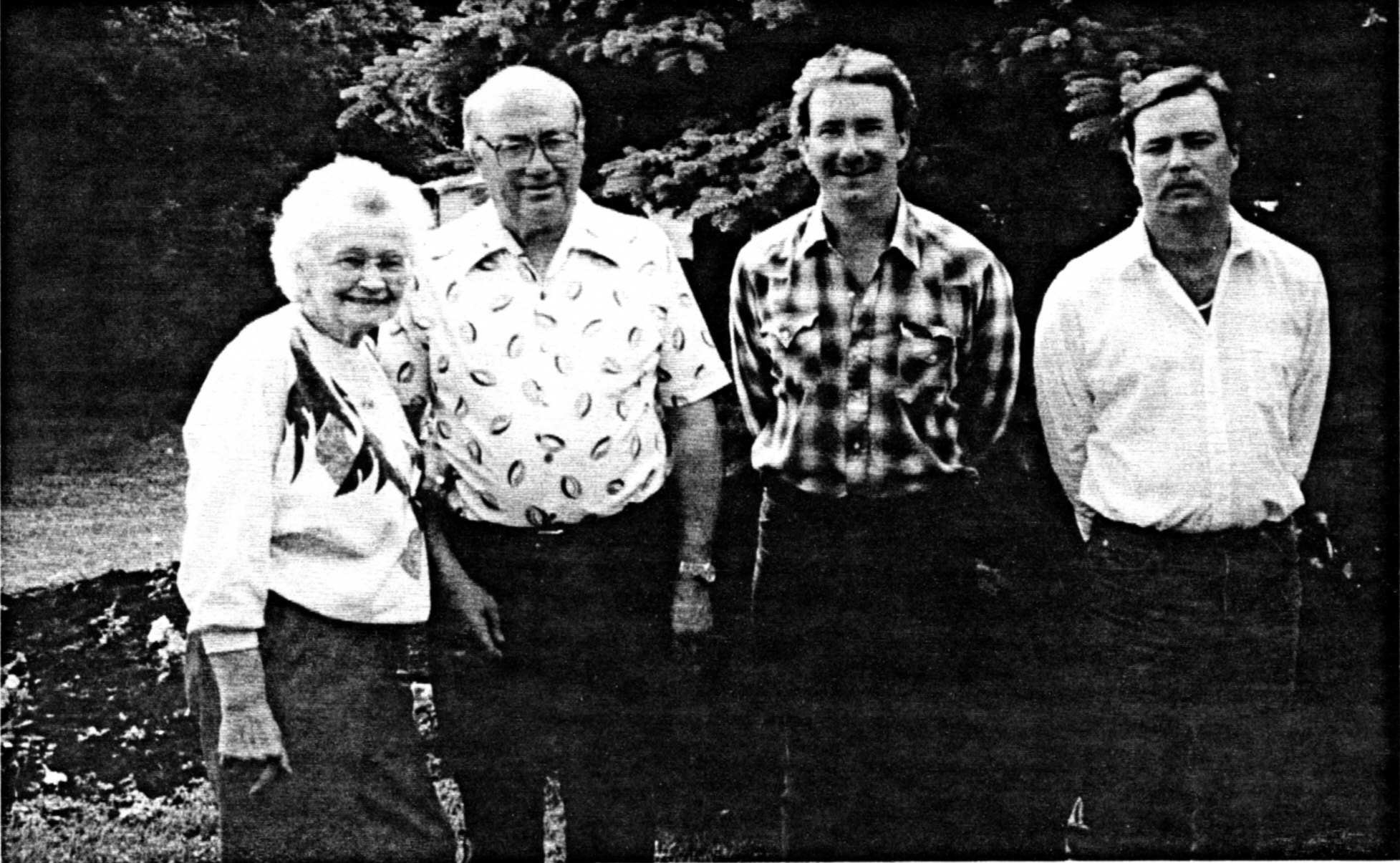 VORIS'S FAMILY
Voris Molsberry was born on September 16, 1917, attended school in Consort and willow Brook. He farmed with his father, who had been a station agent in Mason City, Iowa prior to moving to consort in 1909. Voris's mother Angle operated the restaurant until the family moved to Bowden in 1936. First they lived on an acreage, and in 1940, they moved to a farm. His father passed away in 1944. Angie went to the U.S.A. and worked in a nursing home and Voris moved to Calgary back-filling basements. He purchased a Ford tractor and plowed gardens and supplied mine props in the winter. He owned and operated two trucks, Voris was an elevator operator in Make Peace, Alberta (1952-1954) until he broke his shoulder. He married Rose Rutscke (1916) from Make Piece, Alberta, where she was a store keeper. Rose's family came from Schuler, Alberta and prior to that from North Dakota. They moved to Edmonton and started a spraying and construction company. Voris and Rose have two sons Kevin (1958) and Curtis (1963). The family live on their farm near Leduc. On December 11, 1992 Rose passed away.
Vance Molsberry was born on March 31, 1925 and took his schooling in Consort and Bowden and then joined the Air Force and was a pilot and gunner. He then attended the University Of Alberta taking agriculture. He taught at Olds College then moved to Lethbridge to sell chemicals. He married Ann McKee (1924) and they had a five children: twins Dean and Douglas (1959), Ronald (1957), Clevland (1953) and Jo-Ann (1949). Vance was partner with his brothers in Molsberry Construction and owned his own plane. He died on his mother's birthday in a plane crash in 1970.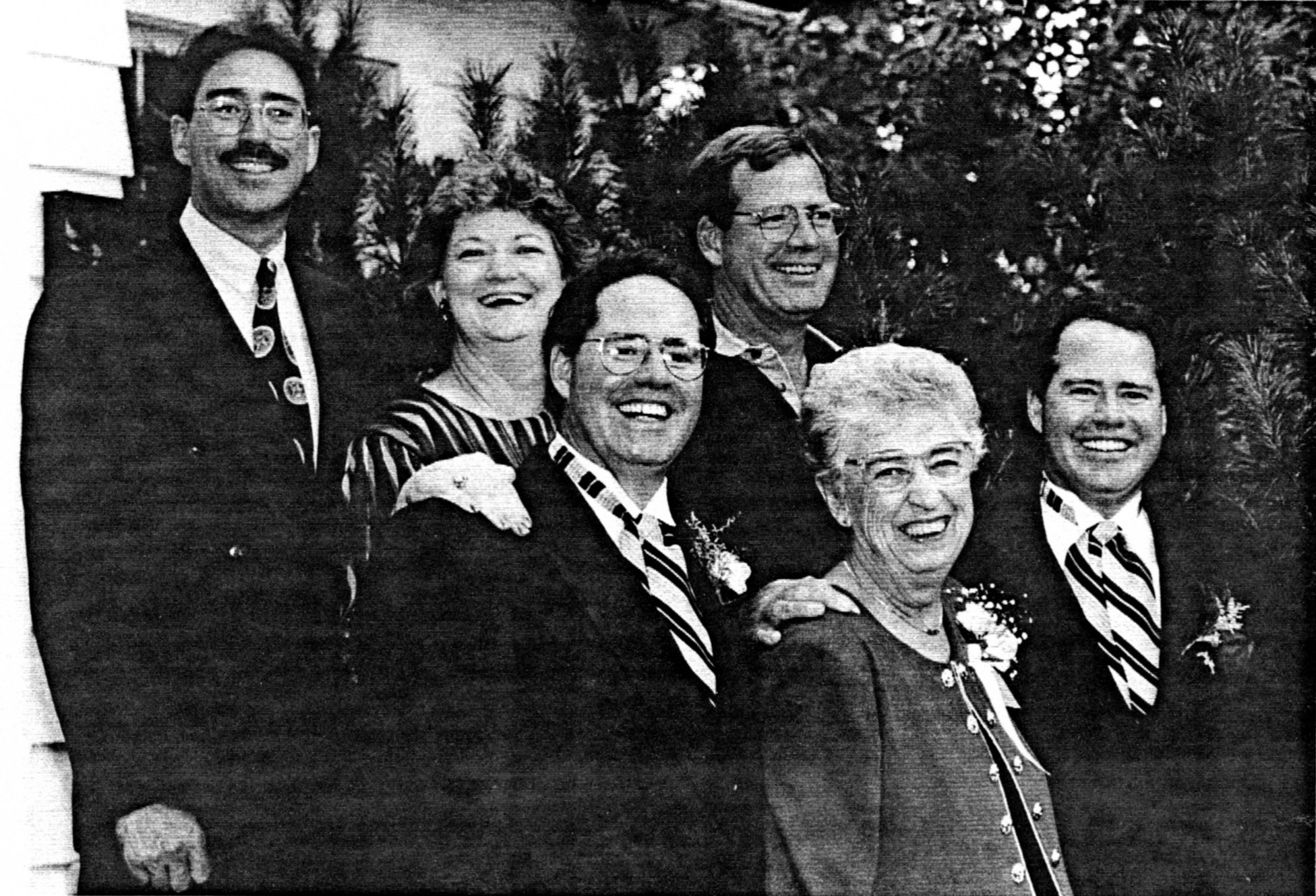 VANCES FAMILY
Ann married Gordon McKenzie (1923), Gordon was from Bowden. Gordon has a daughter Jan who is married to Don Osberg and they have three children: Jason, Andy and Naomi.
Ann and Gordon live on the south side of Edmonton.
All the children graduated from the University of Alberta.
Dean married Maggie Shersemiuk. Dean divorced Maggie and married Monique McGinnis. He is an owner operater of a food equipment company P.D.I.
Douglas married Maureen Hill and he is self employed.
Ronald married Janace Bridges and they have two children, Eron and Colin. Ronald works for the immigration department and was chosen secretary to the ambassador to Hong Kong and was in other areas of the world. He is presently living in Vegreville.
Clevland married Joan Goulet and they have two children, Kellin and Elliot. Clevland is an accountant and the family lives in Victoria.
Jo-Ann married Gary Lepine and they have three children: Devon, Darcy and Sarah. Jo-Ann is divorced, she is a R.N. and works in the emergency department in Surrey Memorial Hospital.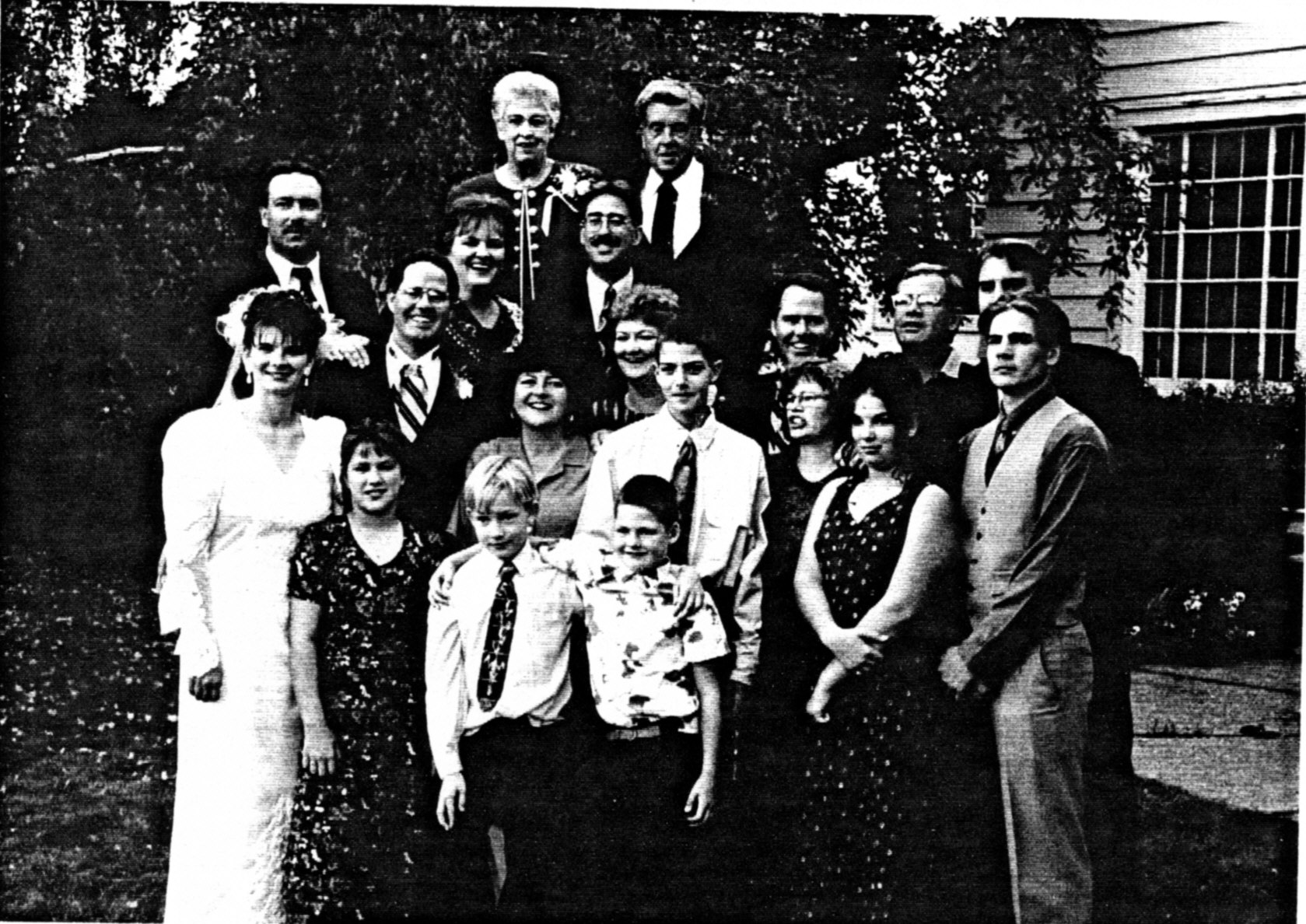 ANN GORDON & FAMILY