HARVEY KELTS FAMILY
Harvey Sheldon Kelts, was born at Pelican Rapids, Minn, on August 26, 1887. Flora Belle McMillen, was born at Hesper, Iowa, March 27, 1886. They were married on February 22, 1909 at Preston, Minn.
Flora's father John McMillen was well known in Iowa in the 1920's as a road builder.
Later in 1909 Harvey, accompanied by Roy Knudson, Haven Dancy, and Eber Waite, came to Alberta to file on homesteads. The land Harvey chose was located approximately seven miles southwest of Sanderville. After this was accomplished, he returned to the States to make preparations for the move to Canada.
Early in 1911, knowing there were many hardships ahead, Flora, having the real pioneer spirit, was happy to venture forth with an eleven month old daughter, Jewel Belle, who was born at Hesper, N. Dakota on May 5, 1910.
They lived in very make-shift quarters until the sod house was ready for occupancy. This dwelling was small, having but two rooms. However, it was quite comfortable, being cool in summer and warm in winter.
FLORA AND HARVEY
There must have been some extremely rough days, breaking a few acres at a time, drought, and shortage of feed, but seemingly no end to determination. Their first real home on the barren praries was built eight miles south of Consort. It was a two story frame structure, boasting a large kitchen, dining room and living room on the main floor and three bedrooms upstairs for the family which grew to five girls and two boys.
Construction of the farm home, probably shared by relatives and neighbours, was well done in short time and provided a strong, warm and pleasant home for this pioneer family - except there was on noticeable and irriversible flaw. The second step from the top of the stairway to the bedrooms was not straight. Someone had goofed in the measurement and the front of that particular step was 1/2" below it's intended level. The stairway itself, though narrow and relatively steep served its intended purpose well, but the second from the top step squeaked when weight was imposed upon it.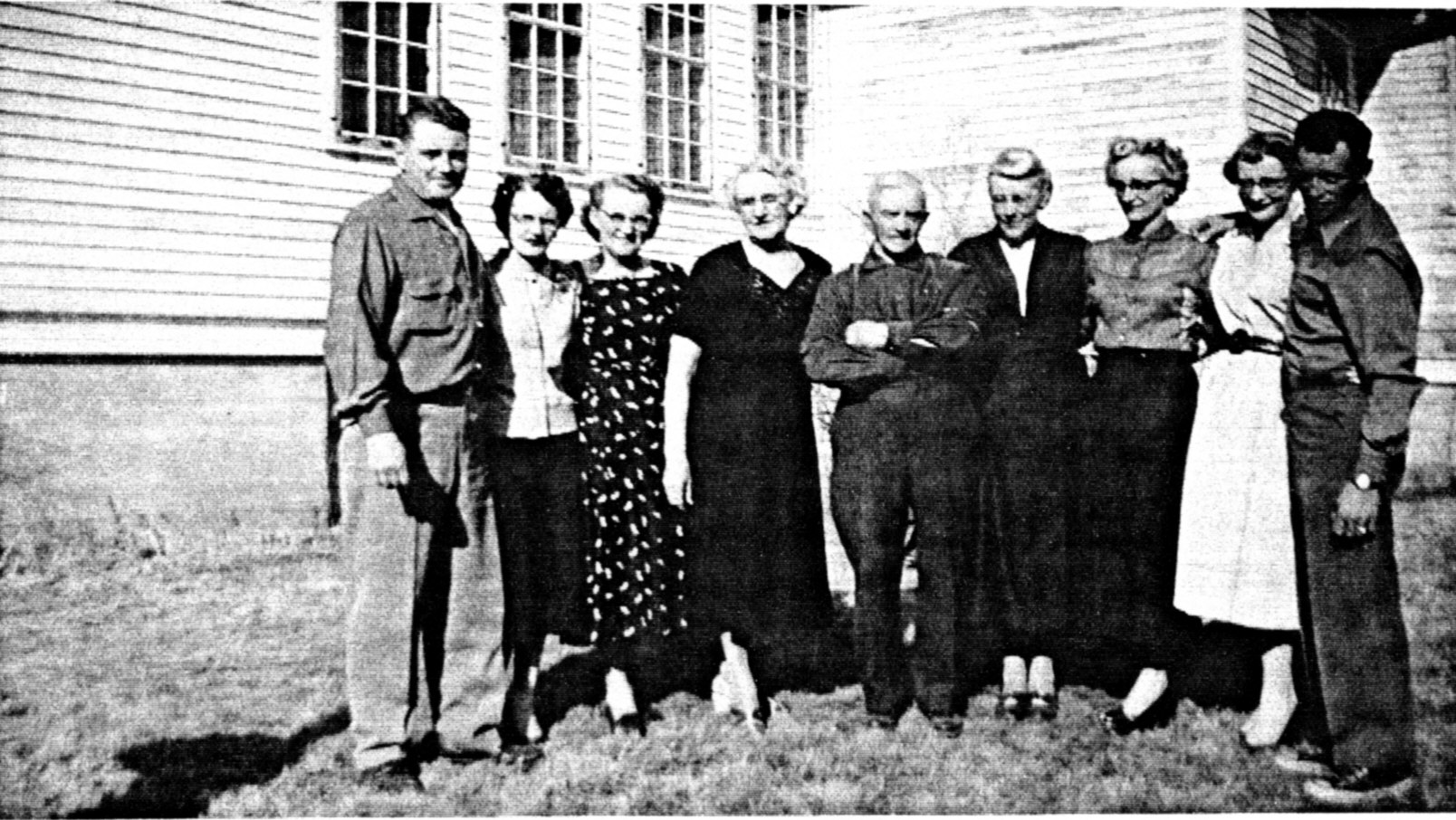 KELTS FAMILY
Now it seem that Flora was a particulary light sleeper, and each one of the children in turn, as they reached their later teens learned after the first few nights of arriving home when their parents were already in bed, not to step on that particular step. Flora invariably heard that squeak and would call out in the night as if she had not yet been asleep, "That you Jewel? and so on down the line to the youngest member, "That you Douglas? Each young person, also in age rotation learned to take two steps at a time and miss the squeaky one. That didn't matter to Flora. She still heard them ascending the stairway and would call out in the dark, "That you, Jewel?" and similarly to the end of the line.
Flora was a good housekeeper and kept their home clean and tidy at all times. One day during her housekeeping duties she washed, waxed and polished the stair steps which were covered with linoleum. Harvey being unaware of this fact and or not considering it, had gone upstairs to change his outer clothing and in the process of doing so, was aware of forgetting something he needed downstairs. Dressed in long wool underwear and red wool socks, he began his journey down the stairs to retrieve the forgotten item. All was well until he hit the second step - his feet went out from under him and what the rest of the family heard was a bumpety-bump-bump-bump-bang-crash as he hit the landing at the bottom. Flora, of course, immediately knew what had happened and ran to the stairway calling, "Papa, Papa are you okay, Papa?" He was okay although bruised a bit and not extremely happy about the stairs being waxed so nicely. They weren't waxed again. Washed, yes. Waxed, no.
The farm home was moved to Consort in 1950, had the addition of a new kitchen, bathroom and laundry room, and was Flora and Harvey's home until they passed away. The home changed hands many times after that until Doug and Dorothy purchased it in 1992. The same old stairway is there. The same old squeaky step still hollers if you step on it. The stairs are now carpeted and not quite so tricky but more than a few grandchildren have learned that it is best to hang on tight to the railing before coming down the stairs. We don't hear bumpety-bumpety-bump-bump-bump-crash-bang so much anymore.
As the years rolled by four more daughters arrived: Myrtle born August 7, 1912, Gertrude, born January 6, 1915, Lela, born June 19, 1917 and Cleona, born October 18, 1918. To a farmer this should have been disasterous, needless to say boys were inevitably necessary to help with the chores. Luckily the second born loved the outdoor work-as Harvey laughingly said, "It didn't matter what I gave Myrtle to do as long as she got out of doing dishes, or anything around the house". Finally, Flora and Harvey were blessed with two sons to make the family complete: Orval born September 27, 1920 and Douglas born April 14, 1927
The family was all born at home with the neighbour ladies assisting the doctor, except Douglas, the youngest, who was born at the Consort Hospital. Myrtle Leona, the first Albertan born, arrived before Dr. Mooney did. Dr. Day was on hand to deliver Gertrude Lucille, Lea lone, Cleona Elora and Orval Gaylin.
The Willow Brook School was built in 1910 the first teacher being Daniel Day, father of Dr. Arthur Day. This location was two miles east of Harvey Kelt's place and where they all got their public school education. They usually walked, carrying their lunches in either syrup or lard pails.
Since they were not in the Consolidated District, in order to obtain high school education, they were compelled to pay a tuition fee and also find accommodation in Consort for that term.
Harvey "Pop" as the family loved to call him, was very active in community affairs, serving as Rural Municipal Councillor (Municipality of Stewart) and again in the town of Consort in charge of Public Works.
Flora had piano training before she married and was more than happy to continue in that field as soon as possible. In 1915, the folks decided to purchase a piano. From that time on, Flora was busy teaching neighbouring children as well as her own family. In later years, she travelled into Consort on weekends giving lessons to quite a sizable class. Then after moving into town in 1949, she resumed the piano teaching which by then had become her hobby. Having recitals involving many of her grandchildren as well as her other pupils seemed most rewarding to Flora.
Harvey and Flora enjoyed good health with no major illnesses and remained active, living in their home. Harvey passed away on June 11, 1968, after a few days sickness, and Flora on December 7, 1975. Jewel married Wilfred Lewsaw (1902) in 1932 and settled on his farm south of Consort. They had five children in the following fifteen years, Howard, Norman, Francie, Terry and Larry. They were all born in the Consort Hospital. All except Larry attended Willowbrood School until it closed, after which they went by bus to Consort.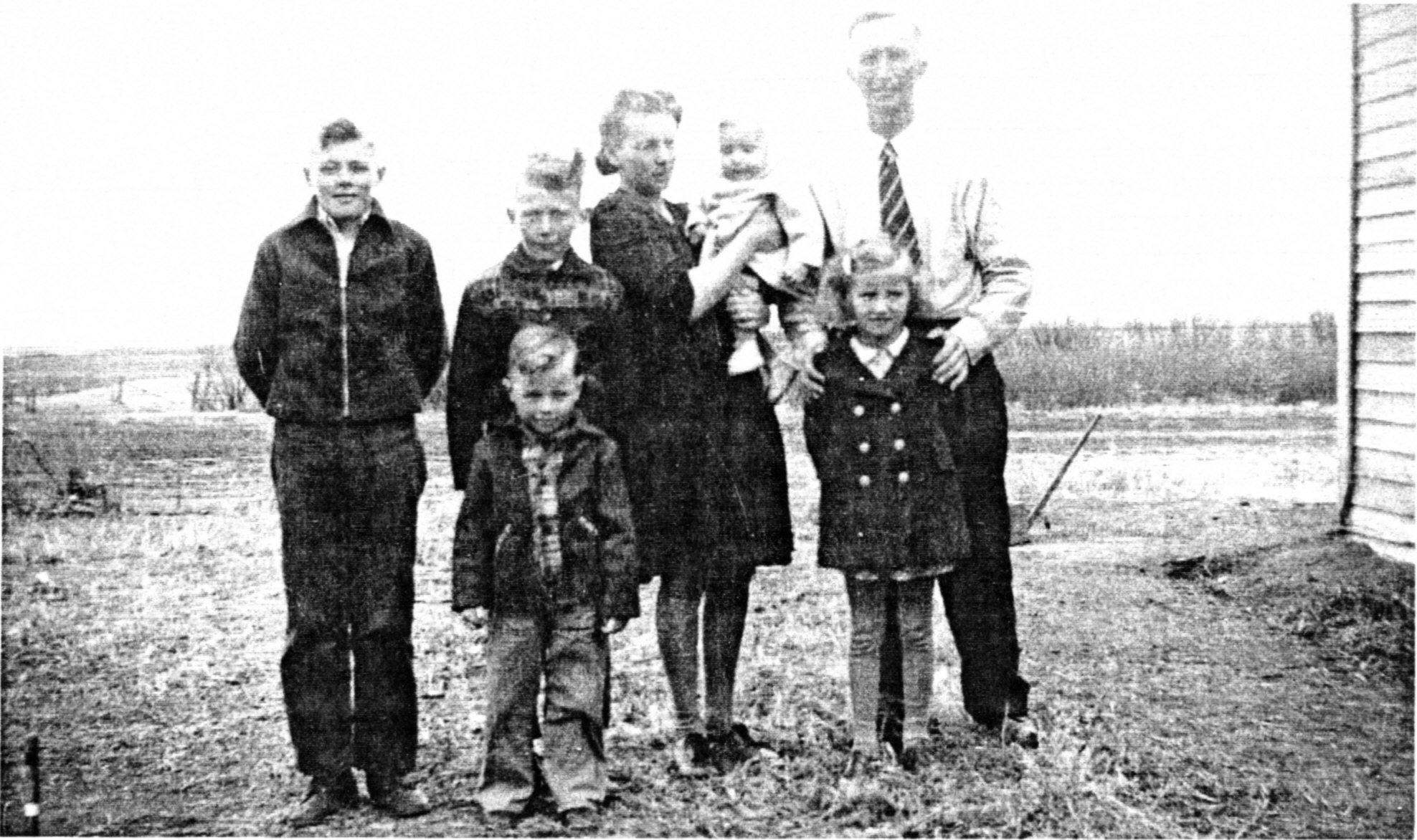 LEWSAWS
After leaving school Howard (1933) worked in many different parts of the country at road construction. In 1964, he took a homestead east of High Level, Alberta and built a house. In 1976, he returned to the Slave Lake country where he had previously been employed. He mysteriously disappeared and is still missing.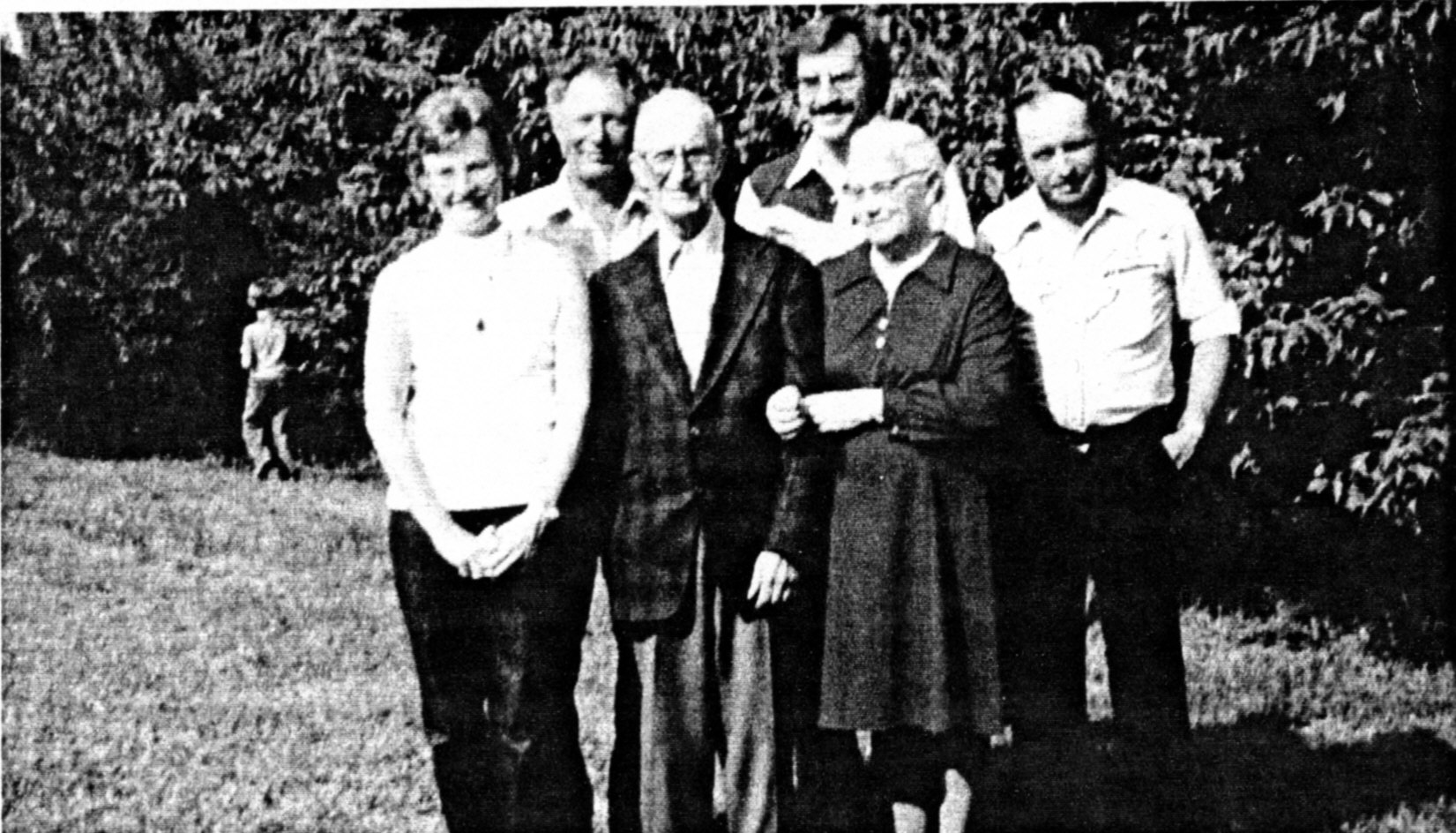 LEWSAWS
Norman (1935) worked several years on a farm o£ Donald Kelts' before going to Dunblane, Saskatchewan to work on a government dam and later on road construction. In 1965, he took a homestead in the High Level, Fort Vermillion area and built a house. He married Barbara Peterson (1950) of Yellowknlfe. They have three children: Debora (1966), Tina (1969) and Donald (1970). They still reside on their farm thirty miles east of High Level.
Francie (1940) married Olav Hanson (1931) on November 18, 1955. They resided on Olav's father's farm north of Monitor for eleven years. During this time, they had two children, Richard (1957) and Marlene (1959). In 1966, Olav went to work for Dome Petroleum. This led to their move to Castor in 1969. In 1971, Francie and Olav adopted a little girl named Luella (1971). Olav continued to work for Dome until they moved to their farm at Fleet in 1978. Their oldest daughter, Marlene is married to Larry Dere. She is a secretary for the Stettler School Division and Larry is a welder. They farm south of Botha.
Terrence Harvey (1942) settled near High Level a little north of where his brother lives. He also worked at road construction. He married Cheryl Peterson (1955), and they have five children, Harvey (1970), Garry (1971), Vance (1977) Leona (twins) and Amanda. They are still living in the same residence farming and raising pigs.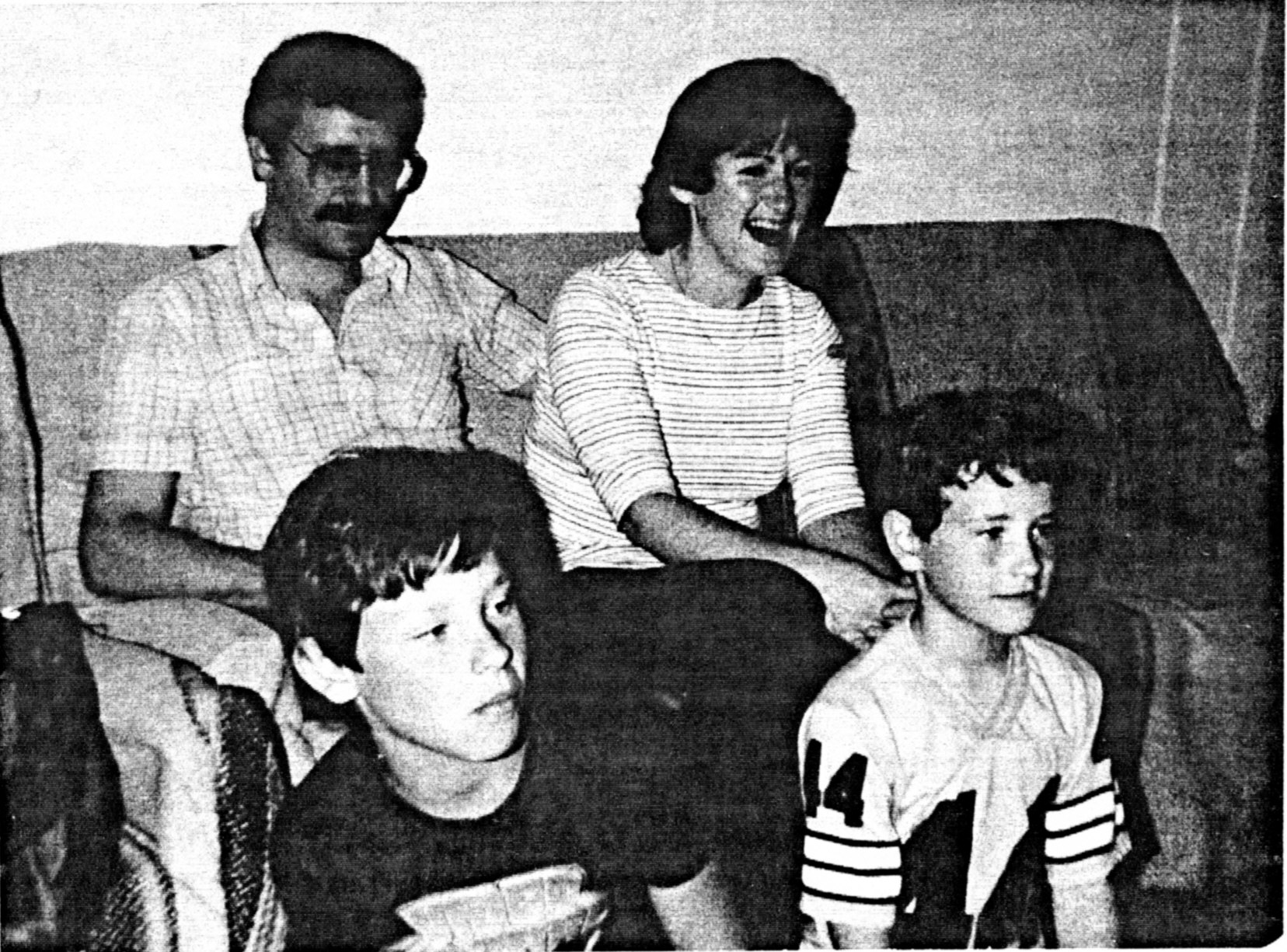 LARRY'S FAMILY
Larry Dean (1945) went from Consort High School to the University of Alberta in Edmonton where he took education. After completing his studies, he returned to Consort and taught school there for two years. He spent one year at Taber, two years at La Crete, four years in Provost and one year in both Red Water and Grand Prairie. After eleven years of teaching, Larry decided to go back to University and take accounting while he worked for the firm of Sax, Zimmel and Stewart. In 1970, he married Janice Scott (1951), and they have two boys, Landon (1975) and Jeremy (1978). They are living in Camrose where Larry has his owm accounting practice (since 1985).
Jewel and Wilfred left their farm in August 1956 and supervised the dormitory in Consort School for nine years. In 1972, they moved to Castor. Wilfred passed away and Jewel moved to Stettler in 1989 and now lives in the auxiliary hospitalin Stettler.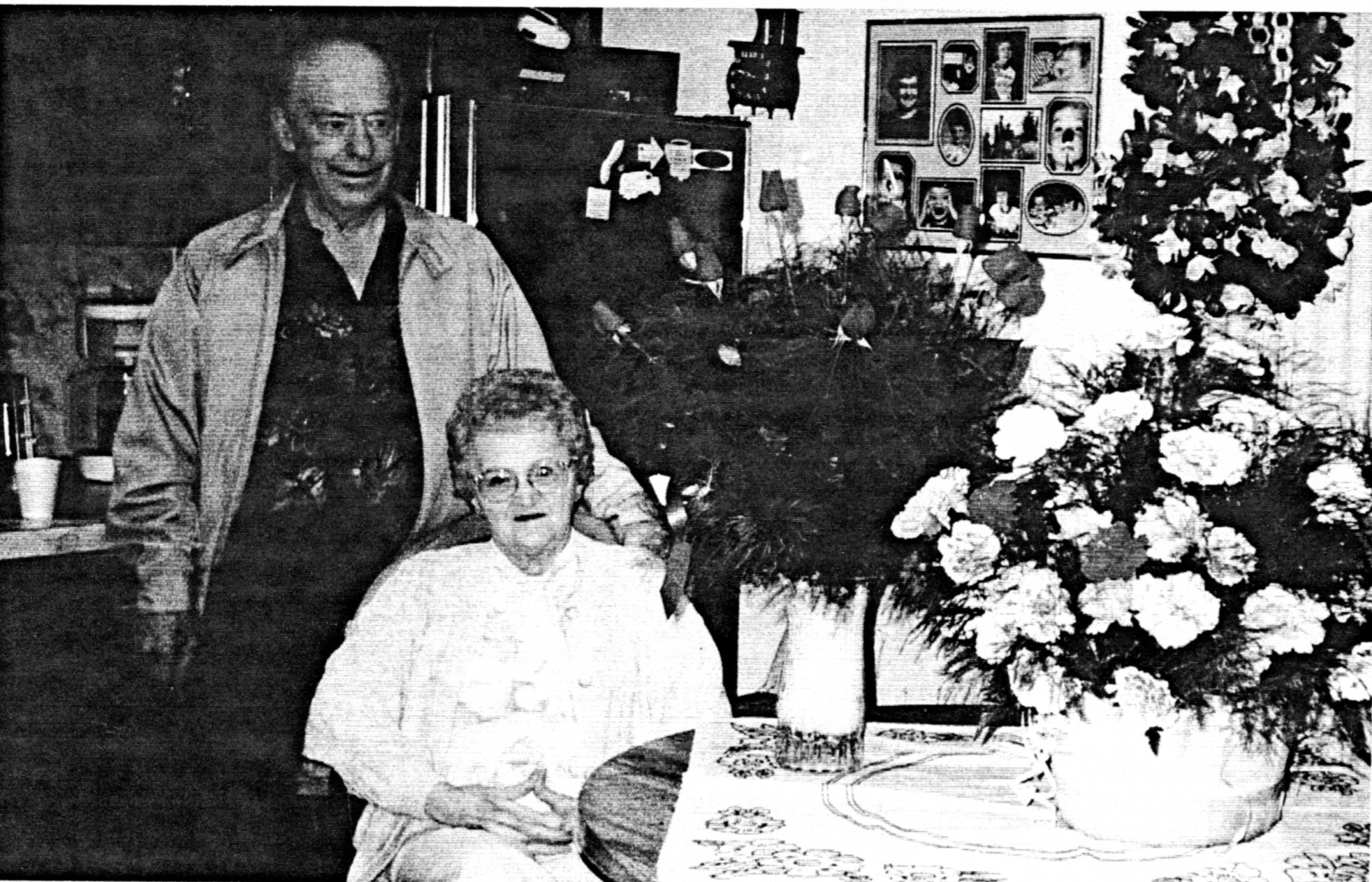 BILL & MERTLE
Myrtle married Bill Larson (1914) in November of 1937. They lived on a farm about eight miles south of Killam until 1960 when they moved into town. After being there a short time, Bill became very interested in the community and took the position of fire chief of both the town and the County. He was also on the town council for ten years. With the help of four other men, Bill built the Killam Feed Mill in 1965, which proved to be very successful. Myrtle, as a Domestic Engineer, has also been very busy for over forty years with keeping the household in order, raising her two girls Connie and Byllie, running errands, keeping up with outside chores and taking "Meals on Wheels" to the men in the fields.
Connie (1941) was the first born child of the Larson's. As a young girl, she enjoyed playing the piano, figure-skating, and pitching fastball. She is presently working in a computerized parts department and an implement shop. She is married to Sam Smolski, and they moved into a farm house when it was vacated in 1960. Sam formed a partnership with Bill which has proven to be very beneficial for both of them. Connie and Sam have three children, Shelly (1960), William (1962) and Toni (1965).
Shelly, the oldest, was married to John Kueber in April of 1978. Shelly has been teacher's aide and secretary at the Strome School for several years and has taught figure-skating in several towns. John is battery operator with Voyageur Petroleum. They have two children, Steven (1980), Mathew (1982) and Andrew (1985).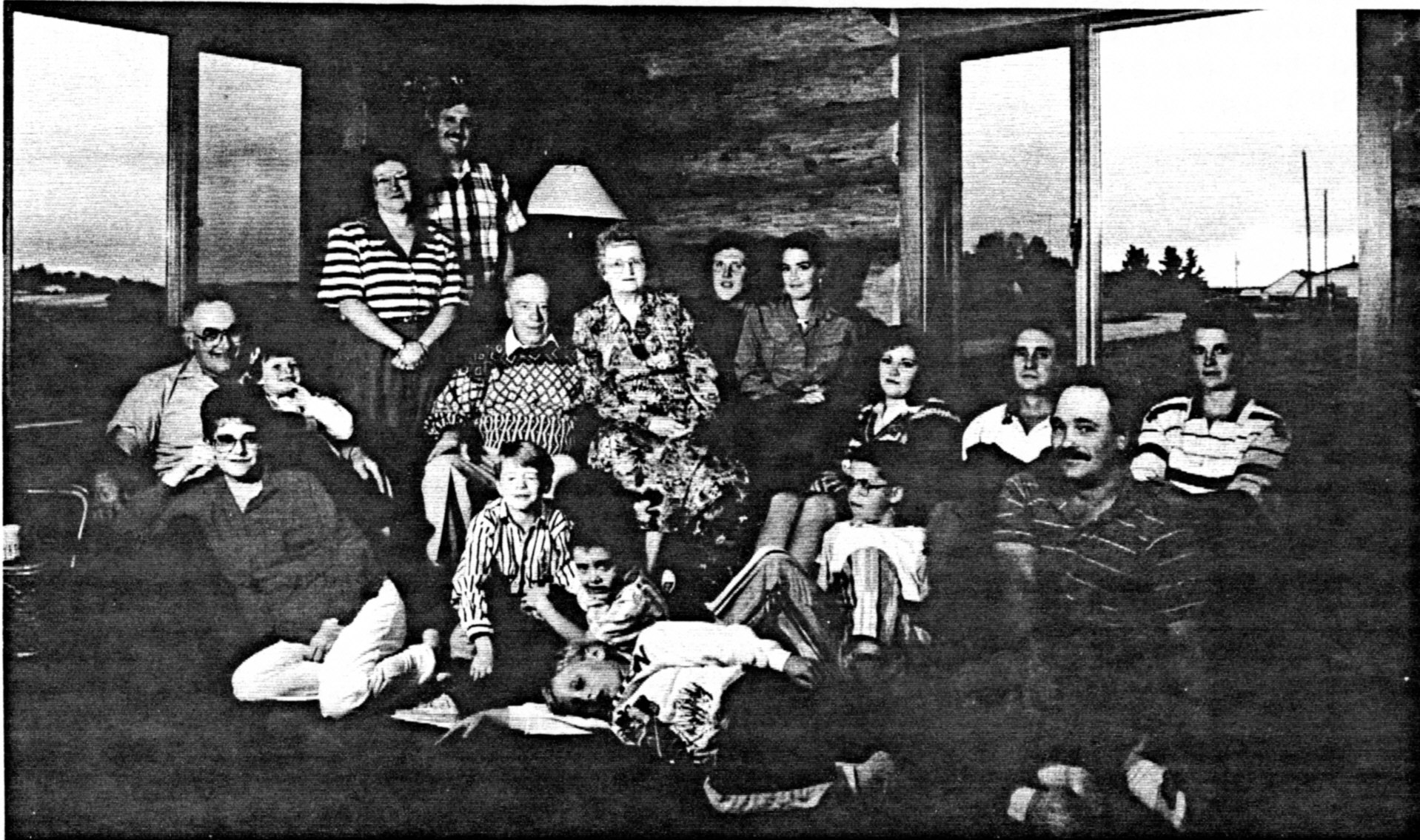 LARSONS
Bill Smolski (1962) has always been active in most every sport. In high school he was involved in senior hockey, curling, bowling as well as teaching power skating and refereeing junior hockey. He is farming and is also an auxiliary R.C.M.P. officer. Bill married Karen Kueber and they have a daughter Dallas (1994).
At the age of fourteen, Toni (1965), Connie's youngest daughter, took figure, skating lessons and also did some teaching herself. She is very fond of horses and at one time she owned two mares, one gelding, and one filly. Toni married Dean Kadt (1963). They both work at the power plant in Forestburg, Toni operates a bob cat and Dean is the supervisor of maitenance.
Byllie was the second daughter born to the Larson-Kelts union. She started singing in amateur programs at the age of three and continued doing so for some time. She was often called upon to be the guest soloist at showers and weddings. In 1972, she married Larry Badry but divorced him about two years later. In July of 1979, she was united in marriage to Wayne Singbeil who is a laboratory technician at the mill in Hinton where they have both resided for the past few years. Byllie is a school teacher and has taught for more than ten years. They have one son Trevor (1981) and a daughter Terri(1985).
Bill and Myrtle are now semi-retired and living in Killam, enjoying being able to spend so much time with their family.
Gert married Vernon Doherty (1914) on Feb.24, 1938. They lived on the Doherty farm N.W. of Consort until 1943 when they moved into town.
Cleona remembered Gert as a motherly type child. She was always ready to help or to listen to you.
Doug remembers Gert as a very determined person. Once, when she sprained her ankle, she hopped two miles to school rather than miss classes.
Vernon worked at various jobs for the next few years. He was Assistant at the Crown Lumber Hardware, held the mail contract, operated a dray-line and freight agency. Ultimately, he combined driving a school bus with part-time work at the Ford Garage for the last twenty years of his working career. He passed away June 8, 1974.
Gert was the Vital Statistics person for Consort handling birth, death and marriage certificates. She was a very witty person and said, "With a lot of people you don't dare ask them how they are in case they tell you". Gert and her sister Lila played with a band called The Rythmn Queens in the thirties. In later years she also spent time playing at the Consort Lodge. Gert was a very direct person she called "a spade a spade."
Gert and Vernon had four children; Patricia, born in 1939, is married to Wayne Boyd (1929). They moved from Calgary to Mara Lake, British Columbia in 1979 where they managed a marina and resort. They moved to Salmon Arm where Wayne retired and Pat is the Head Custodian at the local school. Pat and Wayne have three children. The oldest, Robin (1959) and his wife Laurie live in Calgary where Robin is employed by A.G.T. Stacy (1962) who enjoyed tap and jazz became proficient enough to teach it. Stacy and her son Brandon live in B.C. Kurt (1964) who excels in hockey, swimming and all sports lives in Calgary.
The second of Gert and Vernon's children is James who was born in 1940. He married Sharon Dahl (1947) and they had two children; Richard (1966) and Roxanne (1973). They have since been divorced and the children live with Sharon in Coronation. Richard enjoys playing hockey, he and his wife Tammy live in Brooks. Roxanne has taken some dancing.
James (1940) and Bev live in Lady Smith, British Columbia where Jim is an antique auctioneer.
Elizabeth (Betty) and William (Billy), twins, were born on April 1948.
Betty is married to Ron Rockey (1945). She worked as a teacher's aide at the school their two children, Tara (1970) and Trevor (1973) attended. Ron was employed by Hill Homes of Calgary. Both children were apt students at Cuzzubbo Academy of Dancing. Trevor won a trophy at inter-school competition and Tara has many trophies, medals and ribbons to her credit from both inter-school and provincial competitions.
Betty and Ron moved to Consort where Ron does contract work. They moved into Gert's home and have enlarged it.
Tara married Bradley Fawcett and they live north of Consort. Tara teaches dancing in Consort and has students coming from a great distance.
Bill married Rose Payak (1947). They have two boys, Kent (1972) who skates and participates in gymnastics and Kory (1977). Bill works for Canada Malting Co. and Rose at Shopper's Drug Mart.
Gert started relieving in the Consort Post office in 1958, went on permanent staff in 1967 and retired in Jan. 1980. When she worked at the Post Office, she knew people by their box number. She resided in Consort until her death on February 28, 1994. Much of the Harvey Kelts information I received from Gert.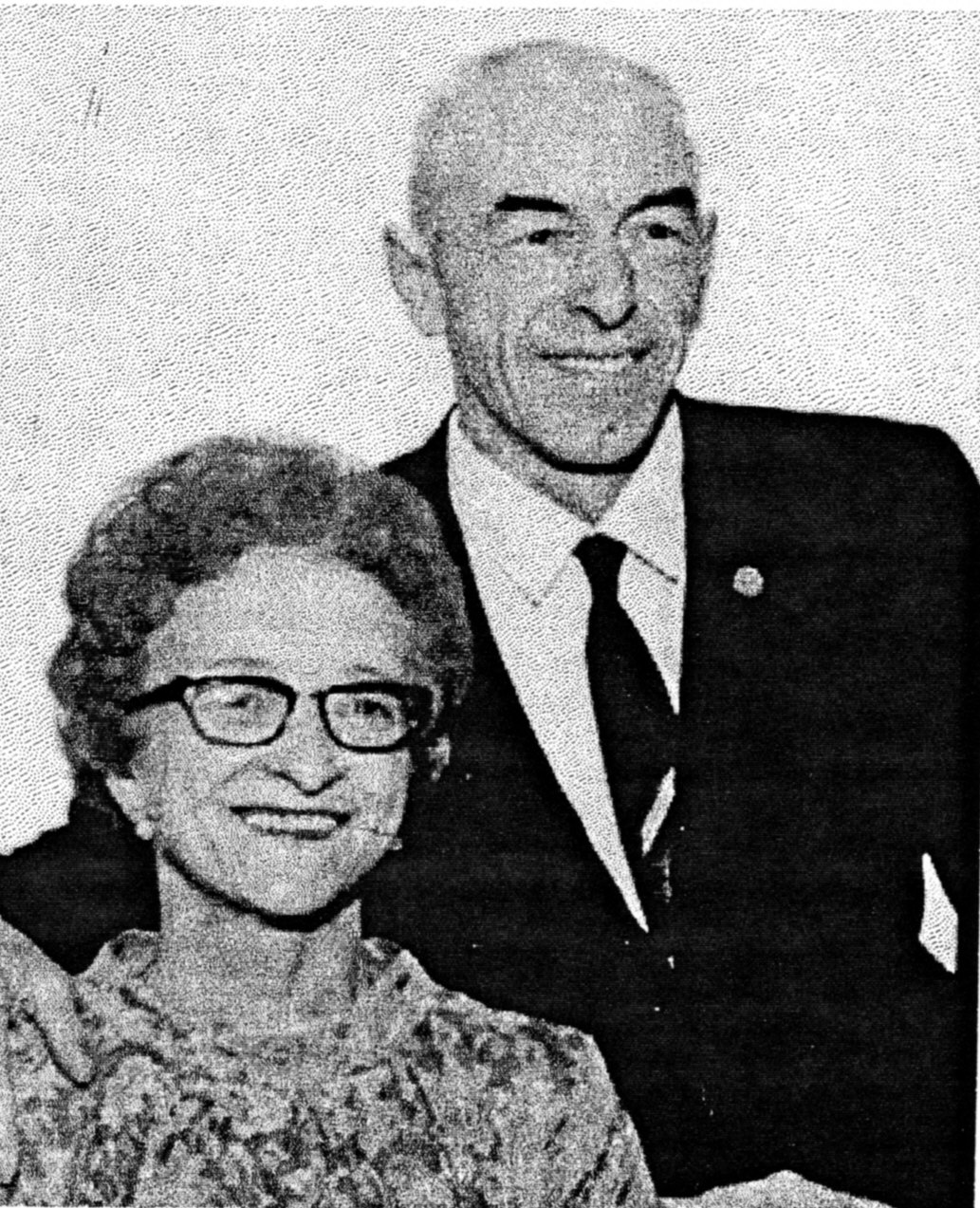 GERT AND VERNON
Lela married Donald Pearn (1910) of Stettler in November, 1938. They resided there until 1953, Don being employed by Canada Post as clerk, a position he had held for several years before their marriage. He left that employment to work in Lawrence's Dept. store and later for a dry cleaning establishment. Lela also worked for Lawrence's and at the Stettler Bakery; at one time she did alterationsfor a men's wear store.
While living in Stettler, they adopted their two daughters, Lynda in 1946 and Flora in 1949, both girls were born in Edmonton.
They moved to Medicine Hat in 1953. Don worked as clerk for various firms in that city while Lela was employed by Marshall's Book Store for three and a half years and later by Safeway's Store as cashier from 1959-1973 at which time she was forced to retire due to ill health.
Lynda married Robert Skorpack of Medicine Hat in 1968. They took up residence in Calgary where their two boys were born, Douglas (1971) and Thomas (1972). Lynda and Bob are divorced and Lynda married Campbell Ross. At present, they are living in Calgary.
Flora graduated Secretarial School of Medicine Hat, went to Ottawa to see the east and gain employment. Here she met Wayne Forsyth. They were married in 1976 in Ottawa where they reside with daughter Sarena (1981).
Lela and Don live in Medicine Hat.
Cleona Kelts married Henry Kroeger (1917) on April 9, 1939. They lived on a farm south of Consort until moving into Consort in 1943. Henry, in partnership with his brother, Nick, opened a Farm Machinery agency.
Thomas Brent was born on February 3, 1943. Brian Harvey arrived on February 24, 1947, followed by Deborah Ann, born on May 7, 1953.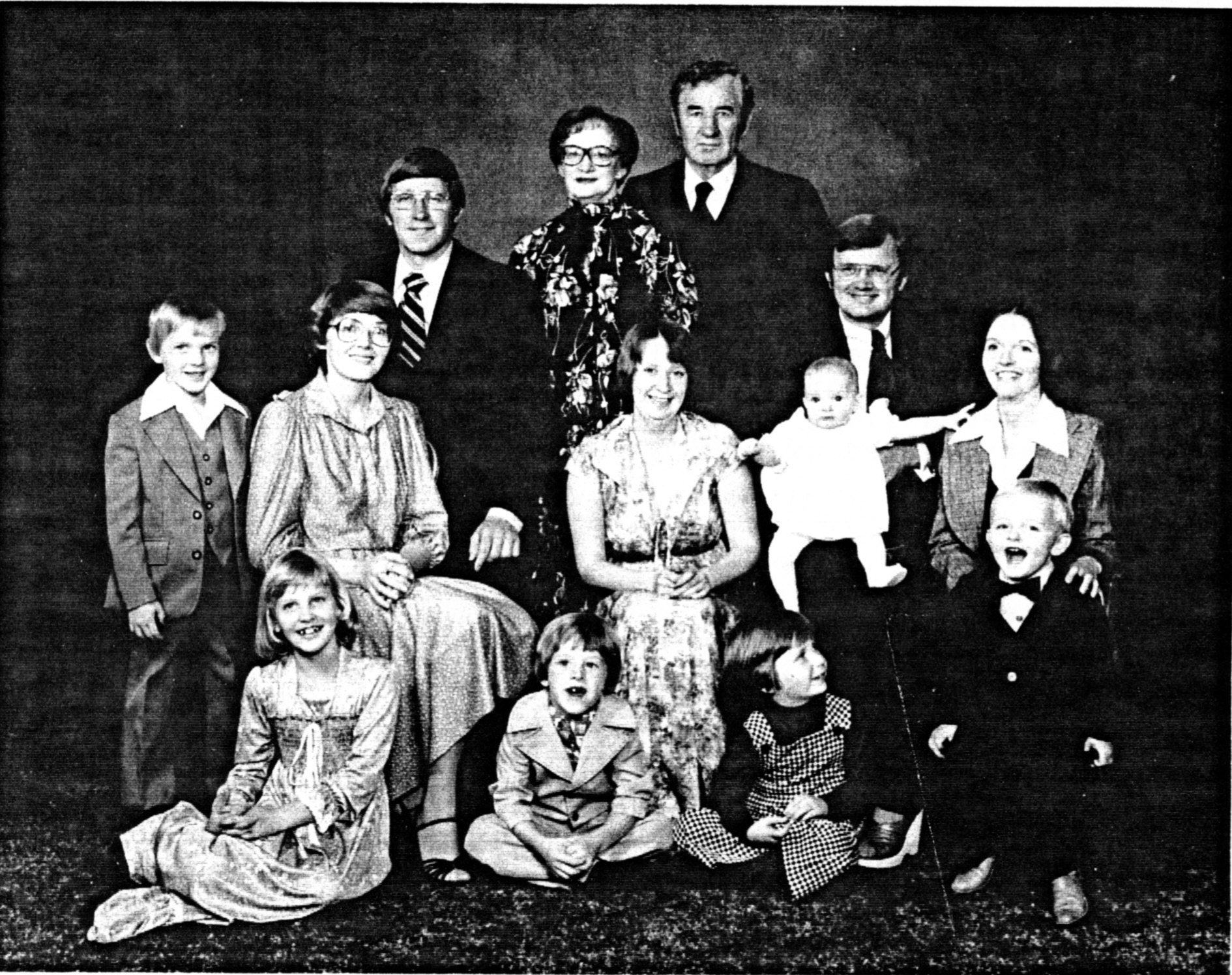 KROEGERS
In the fall of 1952, Henry and Nick opened another Farm Machinery Dealership in Stettler, following which Henry moved his family to Stettler, where they made their home until selling out and moving back to Consort in 1969.
Tommy excelled in both hockey and curling. In 1960, he skipped a Stettler rink, winning the Canadian High School Curling Championship at Noranda, Quebec. Tommy, with his wife Paulette (1954) have two children, Christopher (1975) and Cheryl (1978). Tommy lives in Camrose where he sells real estate for Reality World. Chris and Cheryl live in Alrdrie with their mother. Chery is enrolled at Mount Royal and Chris is taking business admin, at S.A.I.T.
Brian and his wife Lee (1947) have two children, Kerry (1969) and Brandon (1972). Brian is an accomplished pilot with over 7,000 hours of flying time to his credit. Brian and Lee moved to Camrose in 1985. They both work in the insurance and investment business with Manulife. Their daughter Kerry is married to David Vickers and they live in Drumheller. They have one son Maxwell (1996), Cleona's first grandchild. Brandon is married to Teresa and they live in Vancouver. Brandon has inherited Cleona's drumming talent and he works full time in the music field.
Debbie showed musical ability at an early age and at the age of four commenced dancing lessons. She won Provincial Honor's in tap, jazz and song and dance, receiving many medals and trophies. Debbie married Wendelin Turton (1952) and has two boys, Michael (1972) and Chad (1974). This marriage ended in divorce. Debbiemarried Bill Sullivan of Provost on Aug. 8, 1996. Michael and Chad live in Vancouver and along with their cousin Brandon have a band called Nickelback.
Henry was very active in community affairs in both Stettler and Consort and in 1975, after many years of interest in politics, became the Member of the Legislature for the constituency of Sedgewick-Coronation. In 1979, he contested the new constituency of Chinook, winning the seat, and was appointed Minister of Transportation.
Henry and Cleona played in a Tory band called "Tory Blue Notes". Henry played the bass and Cleona played the drums.
Henry and Cleona lived in Hanna but spent most of their time in Edmonton. Henry passed away on September 17, 1987 and Cleona now lives in Camrose.
Orval married Sophie Lupel (1935) in October 1951. He owned a truck line and Sophie was employed at a local restaurant.
Timothy Orval was born in 1954, Cindy Flora arrived 1956, Harvey Gaylin in 1958, followed by Edward Paul in 1962.
That year, they moved to St. Walburg, Sask. and bought a farm. They decided to move back to Consort in 1970. On returning, Orval was employed by Neutral Hills School Division as custodian and bus driver. Sophie, being so fond of children, did babysitting in her own home as well as helping Orval at the school.
In 1978, Orval, Sophie, and Eddy moved to Red Deer followed by Cindy. On arriving at Red Deer, Orval worked at a feed mill and Sophie at The Hudson Bay Store. Some time later they started an Amway business together.
Tim had a great interest in music and sports, and was an excellent artist receiving many awards for his paintings, posters, and cartoons; some of these on provincial levels. Tim passed away August 31, 1971 at age 17 as a result of a tragic car accident.
Cindy married Fred Wiltse in August 1973. They had one child Kerry (1976). They are now divorced. Cindy married Stan Calkins in 1984. They have two sons, Mitchell (1985) and Danny (1989). Stan farms at Lacombe. Cindy has an interest in music, sports and camping.
Harvey married Denise Meier (1957) in 1974. They have two children, Tina Marie (1975) and Jason Harvey (1976). Harvey and Denise divorced. Harvey married Debbie Ireland in 1989. Harvey is part owner of Central Alta Finance. Harvey enjoys all sports, especially curling, and plays drums with dance bands.
When Eddy moved to Red Deer with his parents, he apprenticed as a meat cutter and held the position of manager in the meat dept. at Red Deer Tom Boy Store. He was interested in many sports, curling, bowling, and horsehoes, winning various awards. In September 1979, Eddy was involved in a motorbike accident and remained in a coma in the University Hospital in Edmonton until his death in mid-January 1980.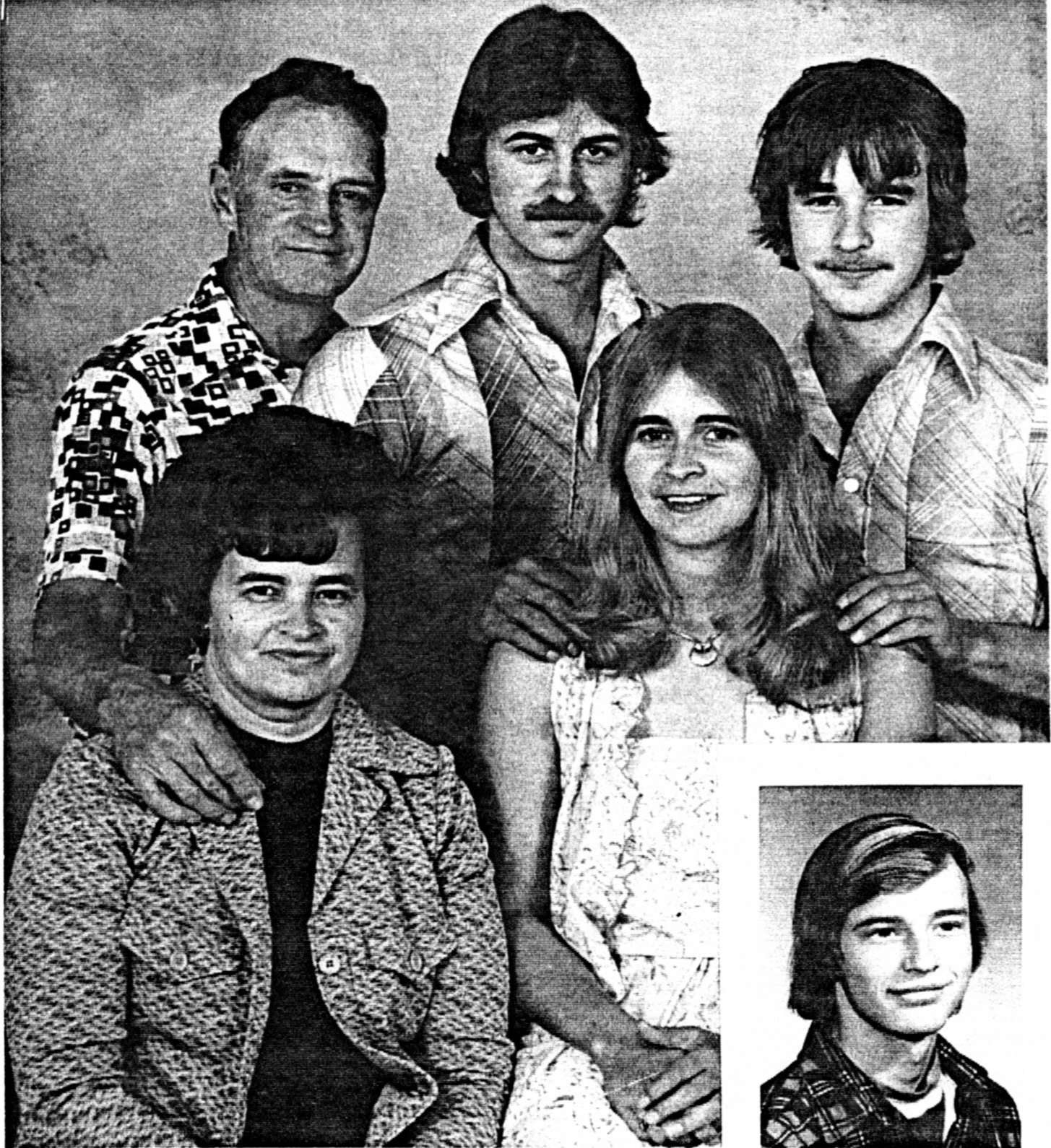 ORVAL'S FAMILY
Orval and Sophie have always been interested in sports curling, and horseshoes attending many tournaments and winning top honors. Orval is working as caretaker for Sylvan Lake Curling Club and Sophie worked at the Hudson Bay store in Red Deer where they reside.
True to the Harvey Kelts tradition Doug played trumpet for local dance bands in in the forties. Douglas married Eileen Koenig (1926) in 1951 and they made their home in Consort. Doug operated construction equipment for road construction, dams, dugouts, etc. He also built the reservoirs for the Consort water supply and dug basements for new homes in and around that town.
They raised seven children. Dennis (1947), married Betty Martin (1942) from Regina and they have one daughter, Sherry (1971). They lived in Calgary and Dennis was construction foreman for Qualico Homes. Dennis passed away, from cancer in 1993.
Blaine (1951) married Beverly McCaig (1953) from Tidsdale, Sask. and adopted a little girl called Tammy (1975). They separated in 1978 and Blaine married Mariam Kazim in 1980. They live in Calgary and have two children, Rayman (1981) and Sheliza (1983). Blaine was a Reflexology and Massage Therapist for many years. He is now a Watkins Distributar.
Wayne (1953) married Sharon Sieben (1956) from Altario and they have three children, Wanda (1974), Wayne Jr. (1978) and Kevin (1981). They live on a farm six miles east of Monitor where he has a mixed farm operation and is employed with Fletcher Challenge. Wanda married Chris McGregor in 1995. They have two sons; Taylor (1992) and Tanner (1996) and they live in Consort in the same location as Doug and Eileen had their home.
Kenneth (1954) was killed in a car accident on Gooseberry Lake road at the age of seventeen in the year of 1971. He was just about to begin grade 12 in the Consort High School.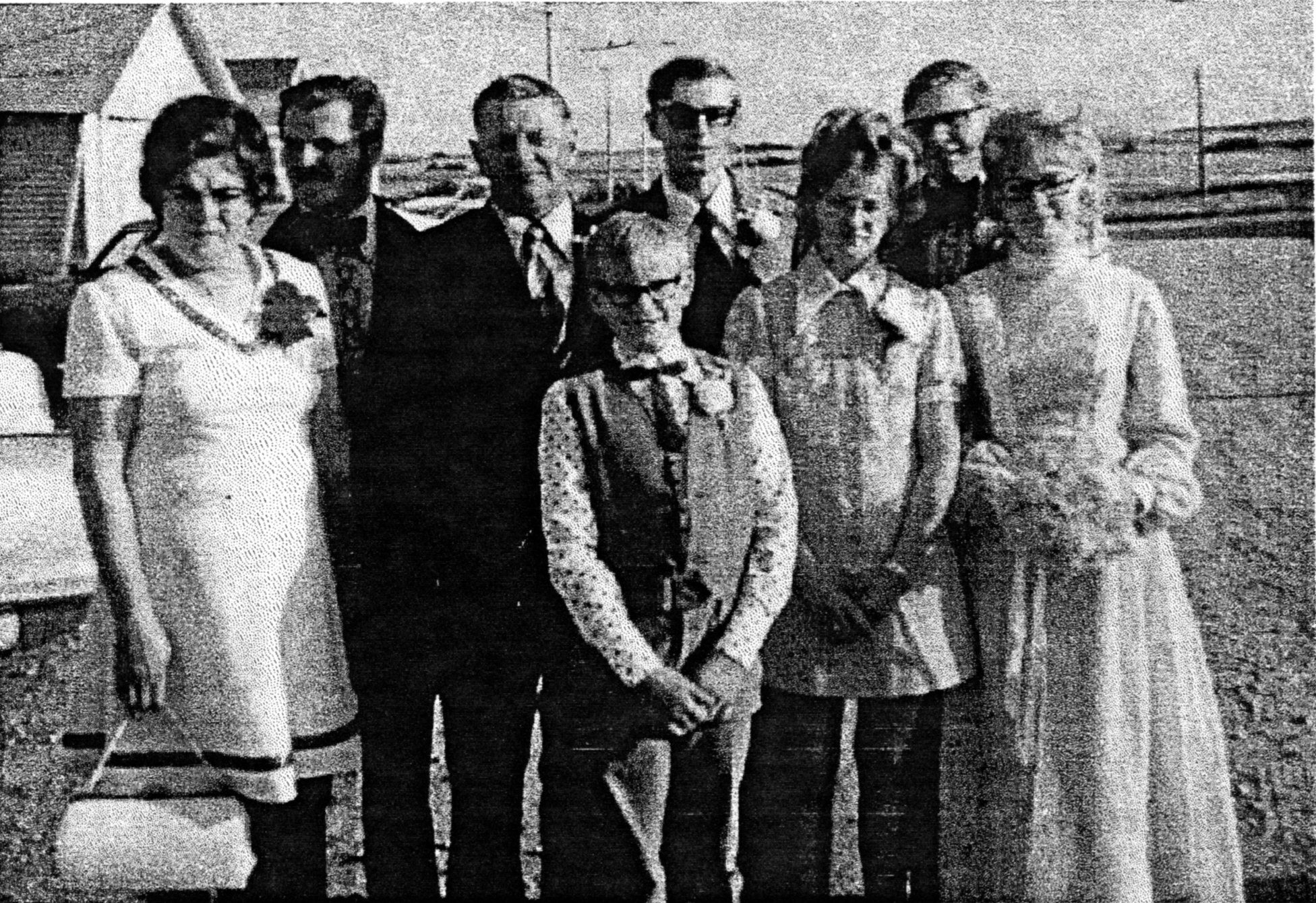 DOUG'S FAMILY
Mariena (1957) is married to Richard Liknes (1953) and they live on a farm seven miles south of Monitor. They adopted a little girl Kaylee in 1990.
Lynn (1958) married James Deleff (1951) and they have five boys; Kenneth (1976), Robert (1977), Michael (1981), Jesse (1983) and Bradley (1988). Their home is in Consort where James farms with his father, Harry Deleff, seven miles east of Monitor.
Leland (1962) married Rowena Lanete in 1987. They have three children; Cody (1988), Denny (1991) and Christine (1993). They live in Calgary where Leland is employed with Qualico Homes as a heavy equipment operator.
Doug dissolved the construction business after twelve years of operation and entered into the cattleliner business serving the Consort community for thirteen years transporting livestock to various markets in Alberta and Sask. In 1973, he sold this business to Warden Rees of Czar, Alberta. Following this, Doug purchased a farm nine miles north-east of Monitor where he now resides.
Eileen passed away on August 31, 1983 after a serious illness.
Doug married Dorothy (Olsen) Lien in August of 1994. They live in Consort in the former Harvey and Flora Kelts residence.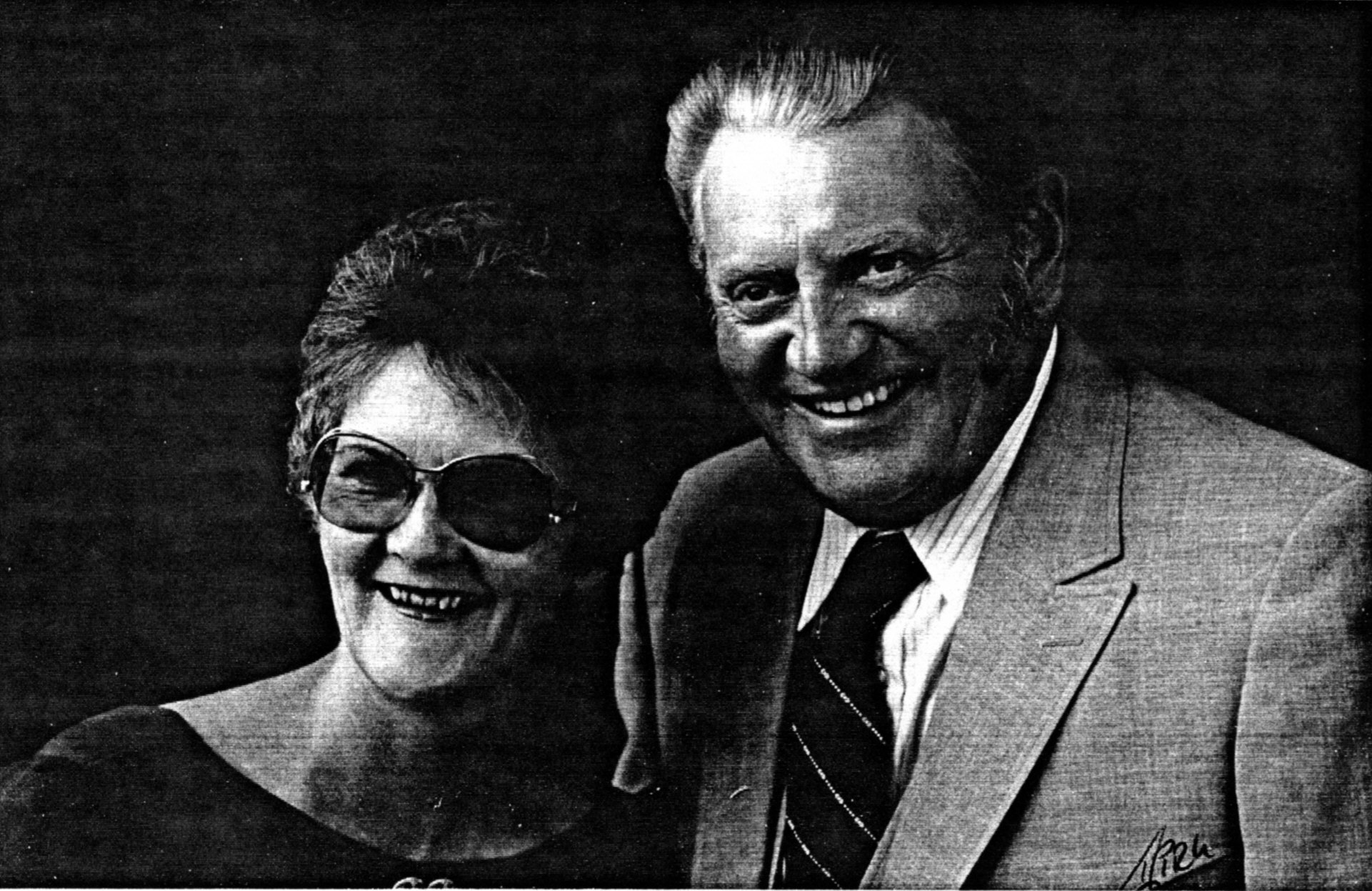 DOUG AND DOROTHY