Lloyd Wright, consulting earlier family records and stories compiled by his uncles Clarence and Lawrence Slater, and cousin Evelyn McLeod, has provided much of the information on the Slater family.
One day, probably in the early 1840's William Crawford Slater and his brother (whose name we do not know) set out with two ox teams from Berrien County, Michigan to Wisconsin. They camped each night. One morning William's ox team was gone and it was found only after a three day search. An old memorandum states "this made him so angry that he wouldn't follow his brother. His brother drove on and left him. They never saw each other again".
This is the first appearance of William Crawford Slater and except that he had a brother, we know nothing about the family from which he descended. It is therefore with him that we must start the story of our Slaters. It is very much a story of the North American West, both in the United States where it commenced, and in Canada, where for many of us it continues.
The family has always been assumed to have had English origins, and the name itself indicates that somewhere back in history at least one member may have earned his living laying slates on the roofs of English houses. This assumption is reinforced by the observation that the given names used in the early years were the familiar ones used in English families. However, we have no idea as to how many generations of the family had been in the United States when William Crawford Slater appeared in our story.
William Crawford Slater's wife was named Sarah but of her family name we have no record. They had five children who reached adulthood but one son died at twenty. The four children whose names we have were: William Harris, Mary Ellen, Charles G., and Angeline. They were all born in Berrien County, Michigan but the family later lived in Juneau County, Wisconsin.
In 1849 William Crawford Slater travelled overland by ox team to California, but died of fever soon after crossing into California territory. We have a copy of a portion of a letter written by him to his family while he was on the way. He tells of leaving St. Joseph, Missouri, where he bought his provisions, on May 11, and of passing through Ft. Carney (Kearny?) on May 31. On Sunday, June 16 the wagon train was laid over about seventy miles from Ft. Carney, but he expected to get to Ft. Laramie the following Thursday. It passed through three tribes of Indians, the Foxes, the Pawnees and the Sioux, some of whom had come to the wagons asking for bread. He noted that there were eight wagons in his train and he estimated there were seventy thousand teams on the way to California. They travelled from eighteen to twenty-four miles a day. He also noted that he had to pay fifty cents to get his letter mailed to St. Joseph (but elsewhere in the letter we learn that bacon was three and one half cents per pound). After the letter was written, the Indians stole some of the cattle in a midnight raid and the next day forty white men went in search. A battle ensued and two white men and twenty Indians were killed.
William Crawford Slater's death in California left his widow Sarah back in Wisconsin with five young children. We know she remarried and her name became Sandford. For the next few years we know little of the family and we do not know if there were any offspring of the Sandfords.
Of special interest to us is William Harris Slater, the eldest son, for he also is a shared patriarch of our Slater and Kelts families. First, however we shall deal with the other children of William Crawford Slater and Sarah.
Angeline Slater's date of birth is not known. She married Rev. Samuel Knox of Palmer, Kansas. They had a son Harley, another son whose name we do not know, and a daughter Rose Ellen. Beyond this we have no particulars of her family.
Mary Ellen Slater, born August 18, 1839, married George Oliver Dancy. George Dancy was born in Yorkshire, England, December 1, 1831. He came to Montreal when he was 14 years old. He walked to New York, worked on Panama road construction, and fought Indians in the U.S. Middle West. Mary Ellen and George Dancy had a family of nine children, eight of which grew to adulthood and which are listed below. Mary Ellen died in 1916 in Swift Current, Saskatchewan.
Sally Dancy, born August 9, 1860 in Wisconsin, died Nov. 13, 1937 in Idaho; married Fred Harround, had at least five children. Will Union Dancy, born Jan. 14, 1863, died January 28, 1936, Swift Current, Saskatchewan; married Lotty Smith and had one daughter, later married Alida Elizabeth Kling and had two sons and one daughter. Hattie Dancy, born October 15, 1865 in Illinois, died August 19, 1940, Escondido, California; married George Curtis and had no children. Jenny Dancy, born July 1868 in Worth County, Iowa, died June 8, 1948, Escondido, California; married L.C. "Len" Harraoun and had two sons. Florence Dancy, born March 8, 1871 in Iowa, died August 11, 1902, Garden City Minnesota; married Gene Bunce and had two children, one a son and it is not clear as to whether the other was a son or daughter. Blanche Dancy, born March 25, 1874 in Cerro Gordo County, Iowa, died Oct 6, 1930, Escondido, California; married Carl Jacobson and had one son and one daughter. James Ernest Dancy, born December 7, 1879 (or 1878) in Cerro Gordo County, Iowa, died July 21, 1953, Swift Current, Saskatchewan; married Marial Almina "Mina" Tatum and had one daughter and one son. Ancestors of Mina Tatum reportedly came to North America on the Mayflower. Haven Dancy, born March 5, 1884, died August 25, 1951, Consort Alberta. Haven did not marry.
The Dancy family remained close to that of William H. Slater and Angelina Williams, and members of that family accompanied the Slaters on various migrations, including those to North Dakota and to Consort, Alberta.
Charles G. Slater was born July 18, 1842, and married Alice Adelaide McPherson. They had seven children: Henry Newton (1867) Eugene Samuel (1873), Edward Kensler (1877), De Etta Estelle (1880), Nettie Amanda (1883), Del Bertha (1886) and Charles Oilman (1888). Charles and Alice both died September 19, 1927 and were interred at Fairmount, Minnesota. This branch of the family spent many years in the Fairmount area, some two hundred miles, as the crow flies, from the Ottertail County location to which William H. Slater and his family moved. This would have been a considerable distance in those days and may explain why we have heard relatively little about this branch of the Slater family.
William Harris Slater was born on January 12, 1836 in Barrien County, Michigan. On September 30, 1858 he married Angeline Williams who was born on March 13, 1841. They had eight children: Ida May, Lillian Clarissa (Clara), Charles Sheldon (Sheldon) Angeline Elizabeth (Libb), William Jay, Henry Wilson (Will), Ray and Mark.
Following William Crawford Slater's death in California, his family remained on the Wisconsin farm for twelve years. In 1861 the Slater and Williams families moved to Worth County, Iowa to take advantage of land grants there. After about eight years these families moved again to Lyon County, Minnesota and a second time in 1879, to east of Pelican Rapids. Here they were to stay for nineteen years as the family grew and expanded by marriages to encompass the Kelts, Waites and Knudsons. In 1888 the Slaters and members of other families moved to the Hesper-Esmond area of North Dakota. The final migration of many of this community of families commenced in 1909 and took them to the Willowbrook area, south of Consort, Alberta.
THE CHARLES SHELDON SLATER FAMILY
Charles Sheldon Slater was the eldest son and much of the account of his life will be given in his own words, for it touches on the lives of so many others in these pages. He favoured his second name, which by many was contracted to "Shell". His words are taken from a letter dated August 14, 1935 to his son Clarence. So we proceed. (From Evelyn MacLeod)
"The farthest back I can remember was when I was near ing three years of age. My folks were moving from Worth Co., Iowa to Lyon Co., Minn. This move was made by team with covered wagon in the year 1869. The mosquitoes were very bad and my two sisters older than myself borrowed my new jackknife to cut bushes to fight mosquitoes with, and they lost the knife. That was a terrible loss to me and I have never forgotten it."
"When we reached father's homestead in Minnesota he made a house by digging into the earth. He dug down so deep that there was no place for a window except in the roof so we had a skylight until later years when he bought a small frame building and moved it on to the homestead. It was while living on this homestead that I commenced herding cattle. Took care of neighbors' cattle and our own."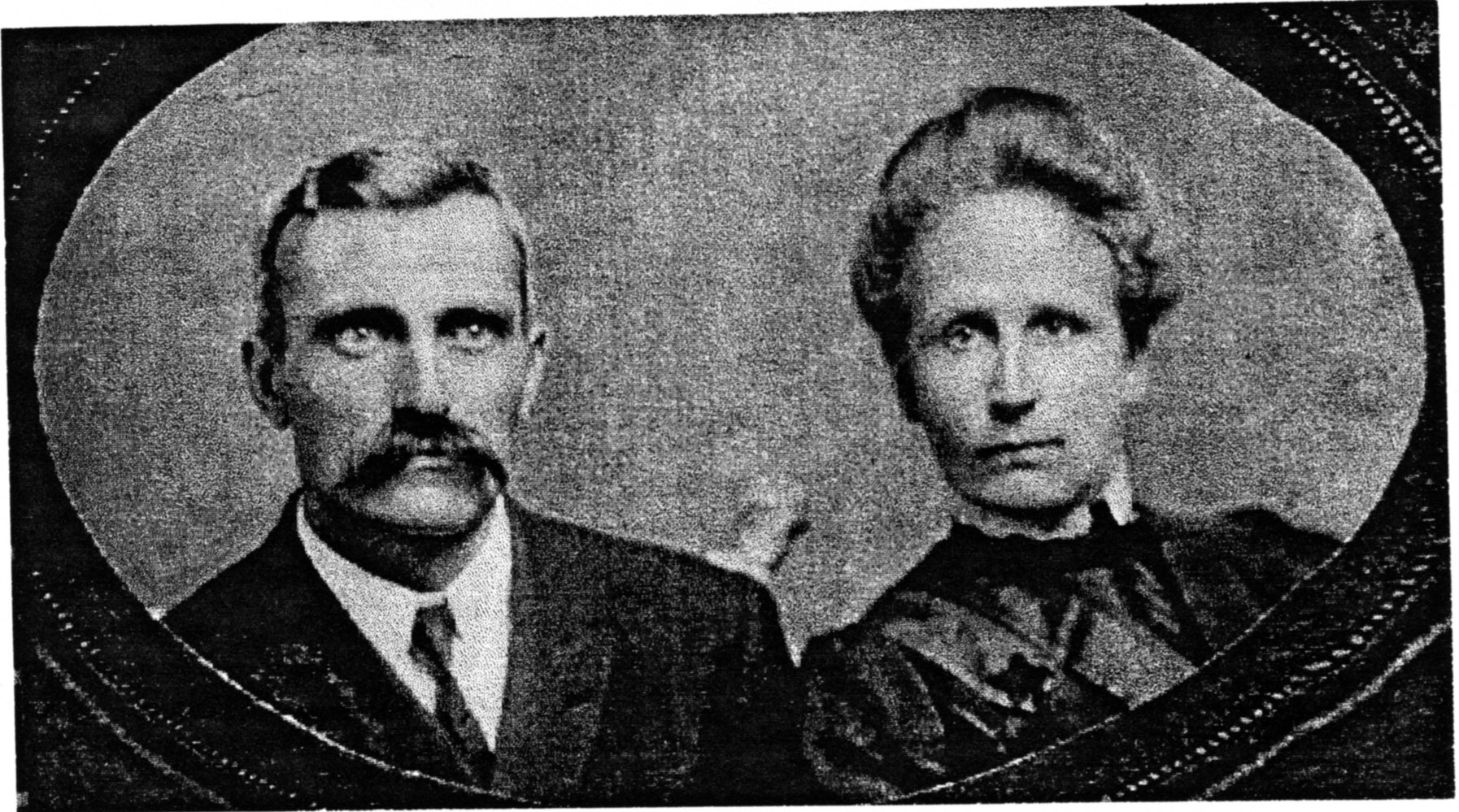 SHELDON AND BERTHA
"Father moved from there to a place on Three Mile Creek twenty miles farther west which brought us nine miles west of Marshall, Minn. There I continued to herd cattle, but on a larger scale; brought them in from farms round about and kept them on our ranch during the summer. One year I had 250 head to look after for five months. At that time we seemed to be on the western limit of civilization so far as that part of the world was concerned."
"Schools did not bother much in those days for there were no such animals around there. However a little later mother taught her own children and the children of one other family in a part of the house and we began to grow wise in "readin" "ritin" & "rithmatic". Yes mother really did teach us the things that belong to a real school. And there is where I got my start in acquiring what education I have. Mother's teaching has been a benefit to me all my life."
"In the fall of 1879 father moved again going to Ottertail Co. Minn, in the woods. Making this journey with teams and covered wagons we came one afternoon to a stretch of prairie that had been burned over. We could not see to the other side of the burned and blackened strip. We were depending on the prairie grass, dried though it was, for feed for our teams and other stock. My father advised camping for the night before undertaking to cross the burned prairie; but it was only about four o'clock and everyone else advised moving on for we could surely cross the burned country before dark. So we moved on and on away into the night and still the burned country was with us. Finally teams were so tired we were obliged to stop. And there we were without water, feed or protection."
"Well, just say that was some night for teams, stock, families and all. And I was supposed to look after the loose cattle. Well, we lived through it and reached our destination. We therefore soon found ourselves in the woods of Ottertail County, Minnesota. Here again we were not bothered with schools for the first year or two and a private home school was again instituted. This did good work for us, and we made progress toward an education."
"And now one more little story away back to the time Mark was born and when I was sixteen years of age. My father started to Pelican Rapids with a team of horses on a certain day thinking that he would go out to what we called the "flats" (a flat piece of country) 20 miles west of Pelican Rapids where Uncle Charley Gillespie and Aunt Clara lived at that time on a claim. (They were newlywed then). Well, it so happened that my mother who was expecting Mark to arrive in the world a couple weeks later took by mistake a dose of poison. This made a pretty complicated affair as you will see and mother became deathly sick. Father had not returned from Pelican Rapids and the supposition was that he probably he had gone on out to the flats or would go the next morning from town. Mother was likely to die, and father must be informed in regard to the situation. There was not another horse on the place and none in the immediate neighborhood. And of course no cars or telephones. What could be done? Well, I said I could go and get him. So I started out to go 14 miles through the dark woods to Pelican Rapids in the midst of a dark night with the lightning flashing and the thunder rolling. I made my way for seven miles when the storm broke with such severity that I had stopped with a bachelor who lived in a log cabin by the side of the road and waited for the storm to abate and daylight to come. I then started again and got into Pelican Rapids early in the morning before there was much stir in town. I managed to find out that father had gone on out of town toward the west the night before; and so I knew he was on his way to Charley's and Clara's place something more than twenty miles west. So I got 10 cents worth of cookies and kept going... and got to Charley's and Clara's place just a few minutes ahead of my father. Of course when father came he knew something was wrong or I would not be out there. Finding out the situation father said we must get back home as soon as possible. So getting our dinners and letting the horses rest for a little while we started back toward home and sister Clara went back with us."
"We drove the team as far as father thought best and then leaving Clara and I at a farmer's with the team he tried the walking stunt and went on home, and we followed along the next day with the team. Mother recovered from the poison and Mark was born. But I will never forget that trip."
"As time went on I became a teacher of country schools, teaching my first term seven miles from home and walking that distance both morning and night. I thought I was doing great things then for I was actually getting the sum of thirty dollars a month."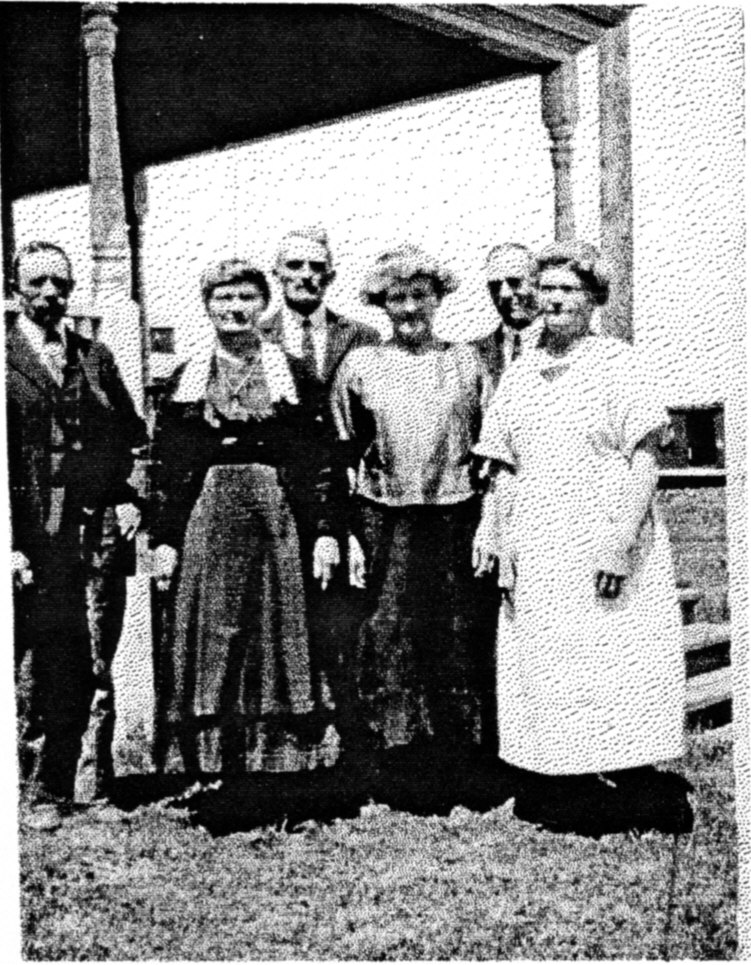 WILSON SHELDON MARK IDA CLARA LIBB
"After I taught for eight years having a good deal of religious work in the meantime, I felt called to preach the gospel. About this time a State Sunday School Supt., Rev Huntington went out into the woods north and east of us and organized three S.S. and then told me he wanted me to go and preach to those people. I did, and that was the way I started. That was about 40 years ago and I have preached ever since. It was thirty miles from home to those three school houses and back, but I walked that distance many times, preaching three times and got back home plenty late at night the same day."
It was during the above period, on February 3, 1892 that Sheldon married Bertha Ann Waite at the West Dora Church, near Pelican Rapids. Bertha was born in Dutton, Ontario, December 16, 1873, to Reuben and Elizabeth (Swanborough) Waite, who shortly before had come to Canada from Wiltshire, England, and later moved to Ottertail County, where Reuben carried on his trade of blacksmith until his death at age 35.
While still in Minnesota, Sheldon's and Bertha's first two children were born; Florence Emeline on August 7, 1893, in a little log house at West Dora, and Clarence Sheldon, December 13, 1897, in the parsonage at West Dora.
The migration to North Dakota came in 1899. The Slater homesteads were at Hesper; but with the building of the churches, Sheldon and his family moved to Esmond. He was ordained a minister of the Congregational Church in 1902. He carried on preaching at all three locations, driving some thirty miles by horse and buggy and conducting three services each Sunday.
It was while living in North Dakota that Sheldon's and Bertha's next two children were born; Lawrence Bert on June 7, 1901, on the homestead at Hesper and Fern Olive on November 28, 1904, in Esmond.
After Esmond, Sheldon, Bertha and family spent about two years in a new house in Haddock, the next town. Then came the move to Canada in early 1909.
In the spring of 1909, led by Sheldon Slater a community of relatives and friends from North Dakota arrived in Stettler to take up their claims in what was to become the Willow Brook School district south of present day Consort. For many of these people this was the second migration as pioneers, for in 1898 they had moved from Ottertail County in Minnesota to Benson County in North Dakota.
Sheldon Slater was himself a child and grandchild of pioneers. With virtually no formal schooling he not only farmed but became a frontier school teacher, and later an ordained minister in the Congregational Church. In his years farming at Consort, he also conducted religious services in the community.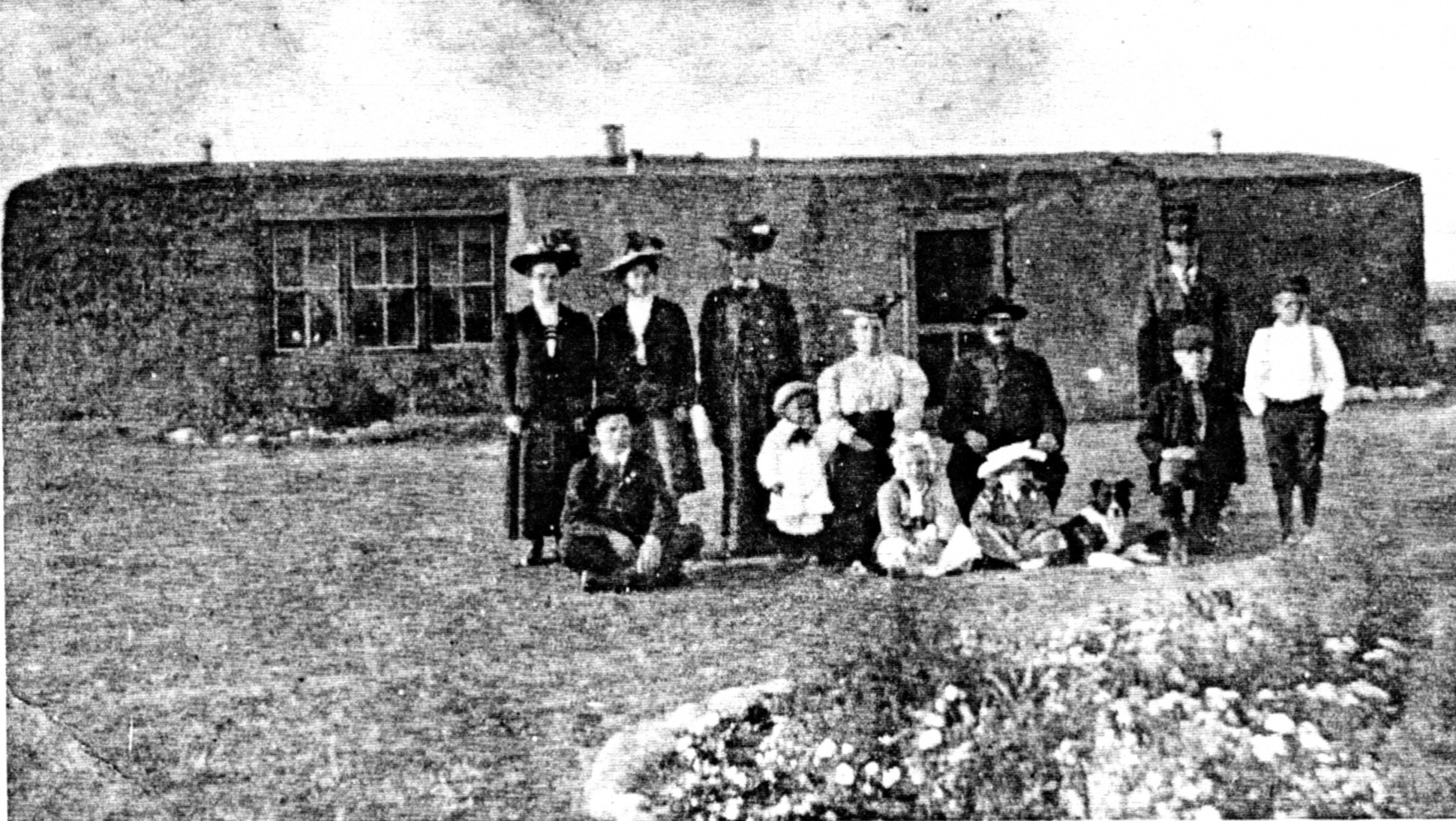 SLATERS AND KELTS (SHELDON SLATERS HOME)
He, his wife Bertha Ann Waite, children, Florence, Clarence, Lawrence, Fern and nephew Bertam lived in a sod house on their homestead. This was not Sheldon's first sod house, and his experience was evident in the solid and tidy structure that he built.
After six years the family moved back to North Dakota, leaving Florence, who had become a school teacher, in Canada. She taught first at Roland School south of Consort and then in the Parkhill district near Lougheed, where she married Reuben Wright. She remained there until her passing on March 7, 1955.
Clarence became a teacher and later a soils scientist with the U.S. Department of Agriculture in Washington D.C. He retired and he and his wife, Dorothy, lived at Newark Manor Nursing Home Newark, Delaware.
Lawrence became a teacher and then worked for a long period as organizer of Lion's Clubs. His last years were spent in Washington D.C. in various executive positions, he died January 24, 1960.
Fern also became a teacher and legal secretary; she married Carroll E. Day who became a well known Grand Forks lawyer and later a state senator. Widowed many years ago, she became librarian at the law school in the Grand Forks University. Fern passed away.
Sheldon Slater wrote to his son, Clarence, of some of the events of his life and included the following on the Consort days:
"The worst trip that I ever made in my life was when a number of us went to Alsask, sixty-five miles to prove up on homestead. You will remember this alright since you had such a deal with the chores while I was gone. We started the 6th of November with no snow on the ground. The weather was threatening however and the first night out it began to snow. We did not want to turn back and so we braved the storm the second morning and went on toward Alsask against a severe snow storm from the northeast. We were travelling with work team and lumber wagon thinking to bring back with us some winter supplies. We bucked that storm all that second day and night going into Alsask. It was a bad storm, getting colder every minute. We stayed all night and as soon as we could get into the land office in the morning, we commenced proving up. By the time we all got through with that and did what other errands we had to do it was nearly night. The snow was about a foot deep on the level as near as I can remember; it was exceedingly cold with the wind in the northwest and getting colder. But we started out to face what seemed like almost an impossible job to get home, no roads, deep snow, slow team and lumber wagon facing a northwest wind. It simply was fierce; but home must be reached. We drove on across that wild prairie until about ten o'clock that night; then we found a family in a small claim shack who managed to make room for our team in the small barn and let us share their shack with them for the night. They were elderly people and were worrying about their son who had gone after a load of coal and had not got back. Well, to make a long story short we put in two more days fighting the cold, the snow, the wind and the drifts to get home. And during all that time, you were having about as hard a time with the chores at home as I was trying to get home. That was a strenuous and dangerous trip. It was while we were on this trip that Uncle Preston Kelts was taken so bad with shaking palsy that someone had to sit with him and rub his hands continually."
"While in Canada, we had many pleasant experiences of course, but they are the common place and we do not tell about them. We tell of the uncommon such as we have spoken of and of the crop failure by drought in 1910 and crop failure by hail in 1911 and finally the bumper crop of 1915, and that made people think they were rich. So we were ready to retire from farming and come back to the U.S.".
Sheldon Slater's wife Bertha also recalled those years in her own words as follows:
"Then your father took the notion that he wanted to go homesteading again so in the fall of 1908 he went out into Alberta to file on land. The following spring we moved bag and baggage and family to Alberta, Canada, where we pioneered again-that made three times that your father went homesteading. Not the pleasantest life in the world either, but I lived through all three."
"We shipped our household goods from Haddock to Stettler, Alberta, and the family went by train. Then from Stettler, we went on to the homestead by covered wagons and teams as there was no railroad built out to where we were going so we travelled 108 miles across the open prairie. It seems, as I remember the trip, that we were either stuck in the mud and broke down or fighting prairie fires most of the time. It seemed that we would never come to our journey's end but one afternoon after three weeks of all kinds of weather and bad roads, the homestead came in sight. Bertram was a baby a year old, and with four other children, I had my hands full on that never-to-be-forgotten long trip. There we built another sod house on the homestead, it was very warm and comfortable. Neighbours soon moved in all around us and we had lots of pleasant times together. I was out on that homestead four years. I never went to town. I was busy with my work and family and could send for what I needed by the men folks so there I stayed until the railroad brought the little town of Consort within eight miles of us. And then I went to town for the first time in four years".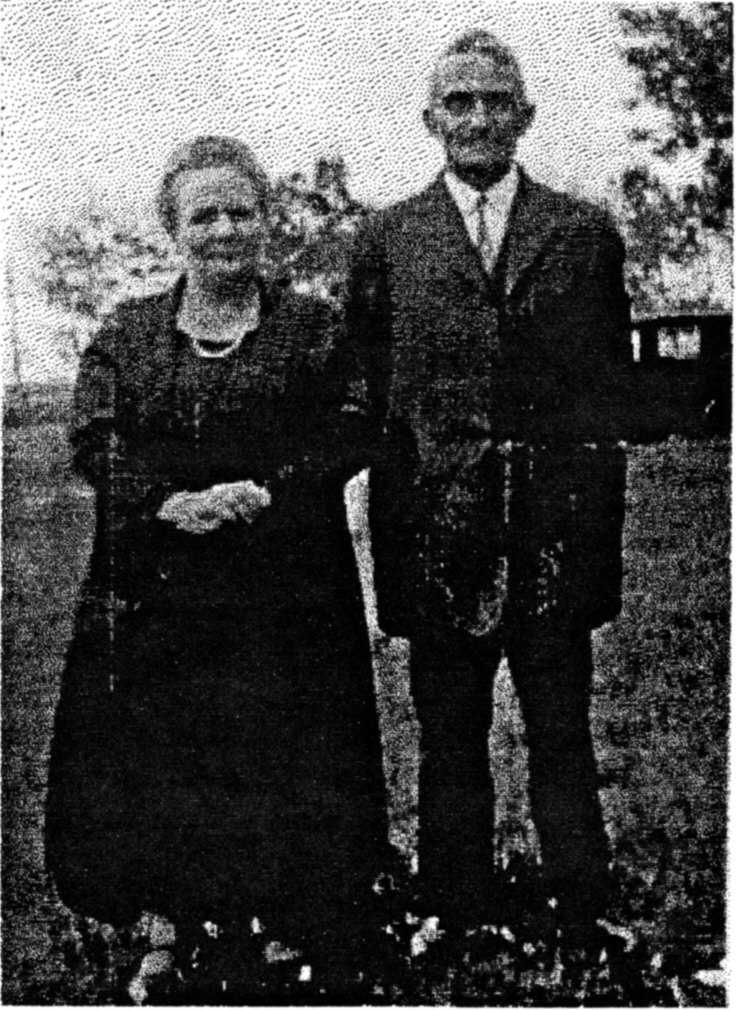 BERTHA SHELDON
Sheldon's son, Clarence, has these memories:
"When I was eleven, we moved to Alberta homesteading and the frontier was in the blood and our family did not travel alone. We were accompanied by other Slaters: the Waldrons, the Williams, the Keltses, the Waites, the Akers, John Reppeto, John Bond, Roy Knudsen, Haven Dancy, the DeWolfes, and perhaps some I've forgotten to mention. Dad and some others, impressed by Canadian advertising, had gone up previously and located the claims. Our claim was the south half of section 10, township 34, range 6, west of the fourth Meridian. I do not know how everybody made the move, but several related families formed the nucleus that went up early in the spring of 1909. Furniture, equipment, horses and cows were loaded on freight cars and ultimately arrived at Stettler, Alberta, one hundred miles from the claims. I celebrated our arrival by getting sick and while I was recuperating and the caravan was waiting for spring mud to dry so we could travel, we lived in tents on the outskirts of Stettler. When the ground seemed firm enough for the heavily loaded wagons (three covered wagons and five freight wagons if my memory is correct) we started, but we needed the help of a couple of cowboys to get going. One team balked. Ropes were passed from their saddle horns to the wagon tongue. The word was given, the ropes tightened, the whip applied to the balking team and we were on our way."
"It took us two weeks to cover that hundred miles. We were two days, or maybe three, and 25 miles out of Stettler after double-teaming the wagons through the mud of the Mayville flats when we were hit by a late spring snow and for three days we did not turn a wheel. The snow was wet and punishing, so much so that the men unloaded lumber to build temporary shelter for the animals and stave off possible disaster. But ultimately, we got moving again-if about 10 miles a day can be called moving. But remember: we had no road. The horses needed time to graze and a wet spot could stall a wagon and hold up the whole caravan."
"But the grass and ground can dry fast in the Great Plains. In our second week, we were threatened by prairie fire which literally travels as fast as the wind. One day in particular, smoke on the horizon indicated fire, and the wind was our way. The men were worried and the women afraid. Sometime in the afternoon, a decision was reached to make camp. Plows were unloaded from the wagon and a strip was plowed around the campsite. Then we back-fired, that is, set the grass afire outside the plowed strip and let it burn against the wind. When the backfire met the prairie fire both would go out. I am still alive so it is reasonable to suppose we backfired in
time. But just barely. That wall of flame when it came looked higher than the width of our burned strip before it flashed out. Sparks jumped the barrier but were beaten out before they could set the campsite grass blaze."
"During the trek, and for some time after, we arrived at the claim, we lived like gypsies. We carried our food supply. We drank snow water from prairie ponds. We did not bathe, at least not much. I suppose we carried some emergency grain but mostly the livestock were dependent on the grass."
"That is why the men worried about prairie fire. What if we found the grass all burned on the claims? in this, luck was with us, for the claims were unburned when we arrived. The first job, however, was to save the grass, so we plowed and backfired a fire break around an area half a mile or more in diameter to supply feed until burned grass could grow again. Fire burned all but that area in about a week. Antelope urged by hunger fed every night around the perimeter."
"We built a house and barn of sod that summer and extended them later. We did get a small acreage planted to flax, threshed it by trampling and winnowed it by hand. I cannot remember just when the well was dug. I do remember hauling water in barrels from a spring one and a half miles away. It was a four day trip to a town but we did have a country store about five miles away where one could buy staples but not much else. The railroad was three years in coming. Consort was then our town, about seven miles away. Even so it was an all-day job to load a wagon with grain, sell it at a Consort elevator, buy a few odds and ends and get home in time to do the evening chores."
"Summers were a time of feverish activities. That is when many things had to be done. Sometimes things got left over for winter simply because the summers were not long enough. One year, a lot of our hay got left out in the snow, so with weather below zero sometimes more than 40 degrees below we would hitch up sled and hayrack and shake the snow off the stack and haul in load for immediate feeding. Hay in the stacks at the barn was fed when snow was blowing too much to bring in hay from the field."
"Easterners have never seen a real blizzard. The worst one I recall howled for three days. During much of that time you could not see the barn from the house-a distance of about 200 feet. We used a rope to get from one to the other to keep from getting lost or blowing away."
"We had amusements of our own making, parties and socials in the winter, sports days in summer and church the year around. Church was the gossip column and standard means of broad area communication. There were no telephones or automobiles either for that matter. We boys rigged up a telegraph line between our house and the Akres using a barbwire fence for transmission, but mostly for fun. We never became very proficient at it. We made pets of gophers, crows and learned to laugh at them and at ourselves. Hunting and berry picking were both recreation and means of enlivening an all too slim diet. I would enjoy prairie chicken, saskatoon sauce and chokecherry jam today, if I could get them."
"We had natural births in the community because there was no alternative. I do not know just how long the community survived without a doctor, but there was not one when John Bond cut and artery in his wrist, held it closed with his thumb and walked more than a mile to our place for first aid. We bound it but did it so unskilfully that the pain was unbearable. Just about the time John was willing to call it quits, a distant and very English neighbour showed up who knew what to do. "You bind it on the muscle and tie the arm in a h-ell shape". Said John, "It's in a hell-of-a-shape now!"
"Mosquitoes! Unbelievable, especially that first summer. Everywhere you went clouds of mosquitoes followed you and preceded you. You could wear high topped shoes and they would bite you through the shoe lace holes. At the mosquito peak people wore nets and some carried smug pots to boot. Chickens grew bald headed from scratching. Livestock learned to feed in heavy smoke down wind from a smudge pile. You built a fence around the smudge to keep them from crowding into it. Our old mare Nell would stand backed against that fence even before the smudge was lit. She burned off a good share of her tail that summer."
"I finished the eighth grade in a one room school house and had no more schooling until I came back to Esmond in 1915."
"I came ahead of the family to start the high school year on time. My older sister, Florence, had gone to Calgary to finish high school. She remained in Canada."
"Why did we come back? Crop failures. One winter when money was particularly short my mother made mocassins for the family out of old binder canvas. We left Canada because that year we got a bumper crop, enough to clear indebtedness and get out with a whole skin. Never pass up a golden opportunity."
After six years the family moved back to North Dakota taking all of the family except Florence. With them went Francis Edith, the youngest daughter who had been born in Consort, October 9, 1912, but who sadly lived only until August 30, 1917, succumbing to appendicitis.
They lived in Esmond for a few years after their return and then moved to Sykeston, Heaton and later Hurdsfield and Fesseded to Heaton. To preach in four churches a Sunday was a very heavy load but Sheldon kept this up well into his senior years. Bertha passed away at Heaton on May 7, 1936. A little over a year later Sheldon married Lillian Clark Turner a widow and neighbor in Heaton. They had four years together before Sheldon passed away on June 23, 1941 in Grand Forks.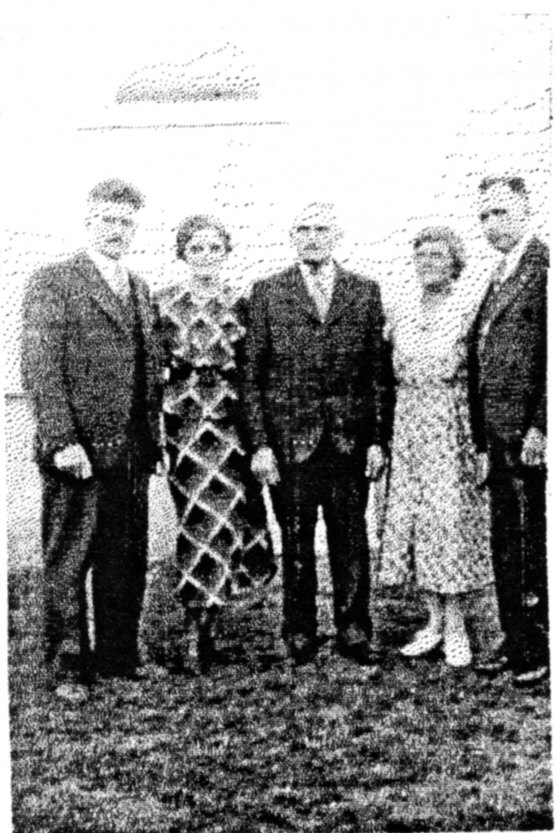 FLORENCE FERN SHELDON FLORENCE LARRY
REUBEN FLORENCE
When Florence came to Canada she was almost sixteen years old and her high school education was seriously interrupted. However she persevered and in the following six years she was able to complete her high school. She attended Normal School in Calgary and obtained a first class teaching certificate. When her family returned to the United States, she remained in Canada. Her first school was Roland, south of Consort. She next taught at Parkhill, south of Lougheed, Alberta. There she met and married Reuben Wright (1894), a young farmer from England, several of whose brothers and sisters Florence taught at Parkhill. She continued to teach for a time after their marriage, but gave up with the impending arrival of family. She spent the rest of her life dedicated to family and home. Reuben and Florence farmed, and for a time ran a small dairy near the Village of Lougheed. They remained there for the rest of their lives. Florence passed away on March 7, 1955 and Reuben died on May 22, 1964. They had two children, Lloyd Clifford, born October 4, 1919 and Etta Lorraine, born April 10, 1926.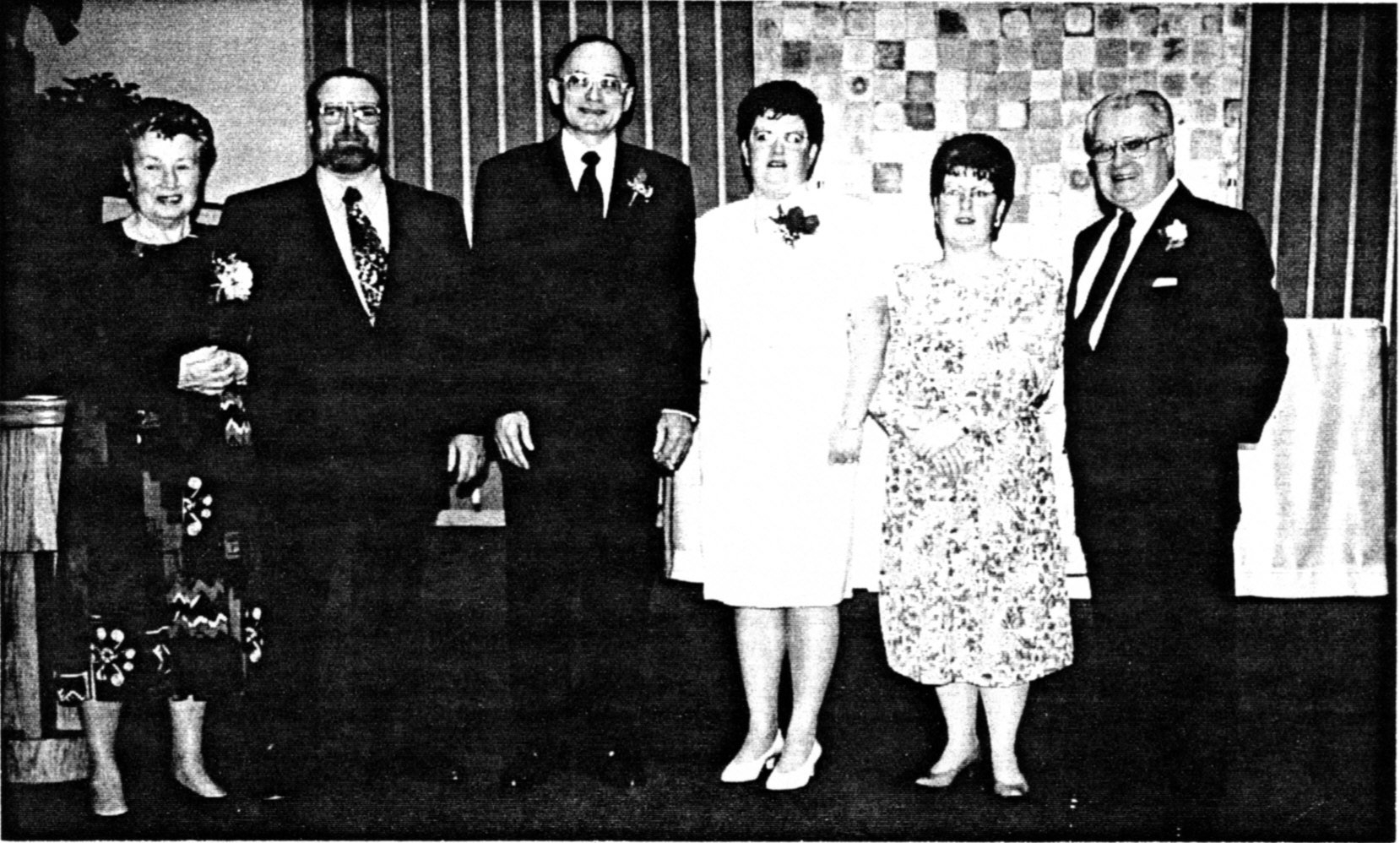 ETHEL DOUG MAURICE LINDA DONNA LLOYD
Lloyd (1919) served in the R.C.A.F. in Canada and overseas until the end of 1945. He attended the University of Alberta and then went on to qualify as a chartered accountant. He and Ethel Marie Scott (1921), formerly of the Silver Heights area north of Coronation, and an ex-member of the R.C.A.F. were married in 1947 in Edmonton. They have three children: Douglas Murray, born February 20, 1950, in Lethbridge, Alberta; Linda Lorraine, born September 6, 1953 in Vancouver and Donna Marlene, born February 26, 1959 in Toronto.
Lloyd and Ethel now live in Edmonton but have lived and travelled extensively throughout Canada for reason of business and pleasure. Lloyd spent twenty years with the Canadian arm of Bechtel Engineering and Construction Organization in Edmonton, Vancouver, Toronto and Montreal. As a senior corporate administor, he was deeply involved in the project management of a number of well known Canadian resource developments. In 1970 he moved to Toronto to Join Traders, a financial operating and holding company, as a corporate officer. In 1979 he took early retirement to return to professional practice, primarily business and management consulting; and in 1980, returned to Edmonton. In recent years he has worked as a volunteer consultant and director for a variety of charitable or non profit groups.
Douglas Murray was married in 1985 to Nancy (Kenz) oud and adopted her two sons David (1980) and Daniel (1982). Doug and Nancy are now divorcing. Doug has worked on the technical side of the video business for many years and is now the staging manager for Sharp's Audio-Visual Ltd. in Edmonton.
Linda Lorraine has worked in the legal field since she graduated from secretarial school in 1971. A few years ago she returned to her studies as a mature student, and obtained her Bachelor of Law degree from the U. of A. in 1955. In September of 1995 she married Maurice Dumont, a lawyer, and they live in Edmonton.
Donna Marlene and Brian MacDermid were married in 1981 while attending the University of Waterloo. They both obtained their Bachelor of Mathematics and then went on to qualify as chartered accountants in 1983. In 1995 they adopted Heather Christine born January 16, 1995. Donna has "retired" from her professional work to be a full time mother. Donna, Brian and Heather live in Mississauga, Ontario.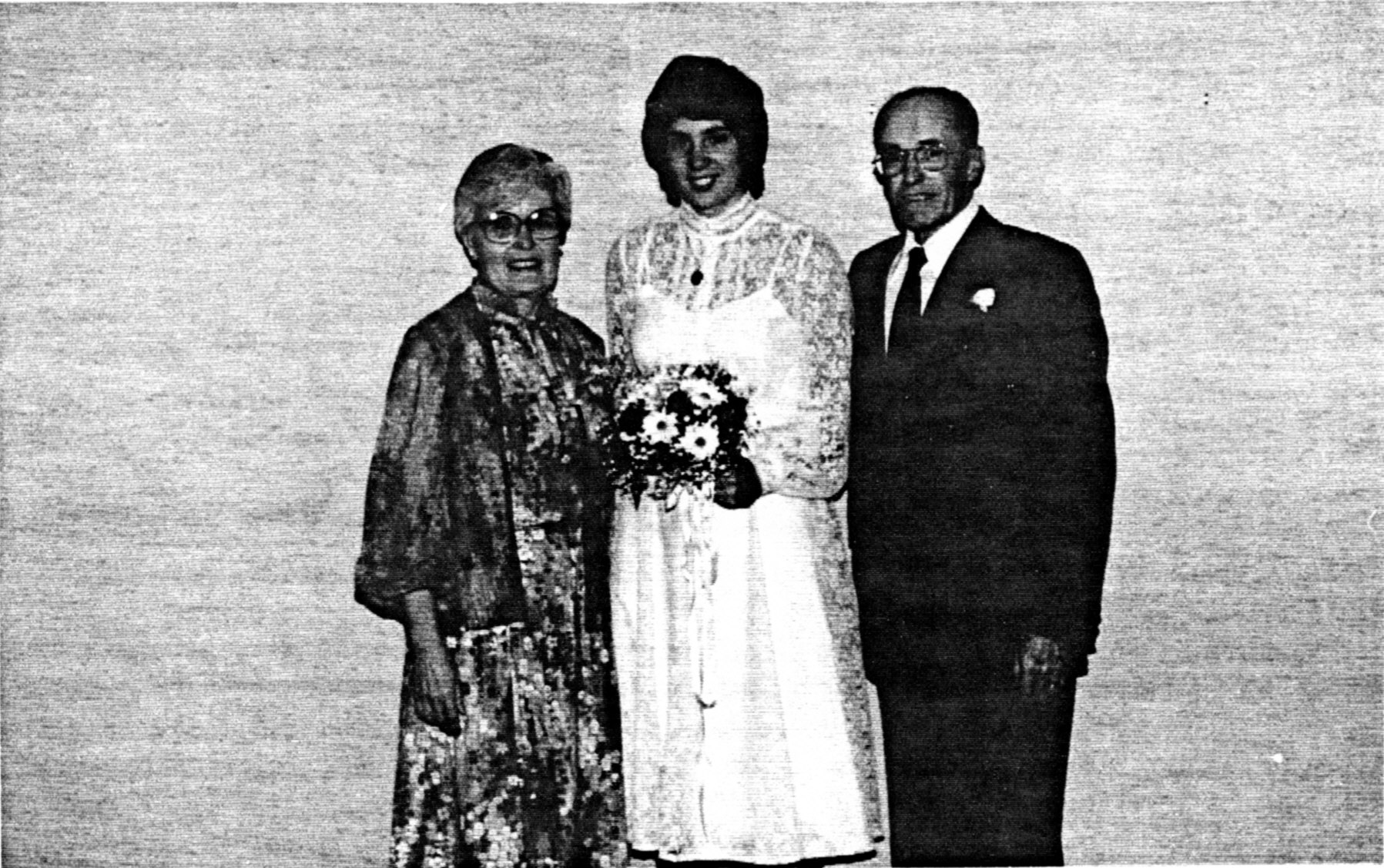 John Lorraine Bonnie
Lorraine (1926) moved to Edmonton in the early 1940's. She and John Scott (1917), a Royal Canadian Navy veteran, (and brother to Ethel, Lloyd's wife) were married in 1948. John spent most of his post war years with Alberta Government Telephones, from which he retired in 1978. John was ill for a number of years and passed away in the Mewburn Veterans Centre, October 28, 1994.
After their marriage, Lorraine continued to work outside the home, in office and in property mamagement. Their daughter Bonnie Marie, was born August 28, 1958.
Bonnie Joined the University Hospital staff as a Registered Nursing Assistant in 1979 but continued her studies and graduated as a Registered Nurse in 1989. She works at the U. of A. as an intensive care nurse. Bonnie and Vincent Amrock (1958) were married in 1980. Vince is a graduate from th U. of A. in Honours English and is employed as a technical writer with North West Utilities in Edmonton.
Clarence Slater (1897), on his return to North Dakota from the Canadian venture, had some catching up to do on his education. He persevered and was able to become a teacher and later a soils scientist with the U.S. Department of Agriculture in Washington, D.C. In 1930 he married Dorothy Carolyn Harris (1903) from Utica, New York. For many years they lived in College Park, Maryland where their family was born and raised. In their later years they moved to Newark, Delaware, near the home of their eldest son. Dorothy passed away in 1991 and Clarence died on March 8, 1993, at the age of 95. Clarence and Dorothy have four children: Sheldon, Lorna, Bradley and Judith.
SHELDON & ANNE
Sheldon Harris Slater, born August 16,1931, is married to Anne Lindsey Bengel (1933). Sheldon now in the commercial real estate industy and is retired from the U.S. Air Force. Anne is a school teacher. They have four children: Sharon Anne, born April 5, 1957, Jonathon, Lindsey Marie (1961), William (1963) and Jonathan (1966). They lived in Newark, Delaware and recently moved to Baltimore.
Sharon Anne married Donald Koehler on August 5 1978. They have four children: Robert Sheldon, Kristina Marie, William Thomas and Thomas Christopher. Lindsey Marie married John Cartier (Dr.) in 1990.
William Sheldon married Lorraine Tharby in 1989.
Jonathan married Lisa Marie Spooner in 1989.
Lorna Carolyn Slater born Nov. 6 1933 is married to Wayman Parker Wilkins Jr. (1928). They have six children: Carol Lyn Wilkins born Jan. 15, 1956, Noel Anne born December 21, 1956, Matthew, Mark, Seth and Lisa. They live near Washington.
Bradley Waite Slater, born January 14, 1935, was married to Joanne Christie Gelzer (1935), and from that marriage has a son Robert Glenn Slater, born April 23, 1955. From a later marriage to Betty Jean Bell he has a son Larry. Bradley remarried Peggy and adopted her two daughters Melody (died) and Laura. Laura is married to Rob DeForge and they have two sons: Nicholas and Eric. Bradley is living in California.
Judith Eden Slater was born April 6, 1941. She is married to Stuart Richter and now lives in Salisbury, Maryland. They have three children Kathryn, Andrew and Steven. Judith and Stuart are teachers.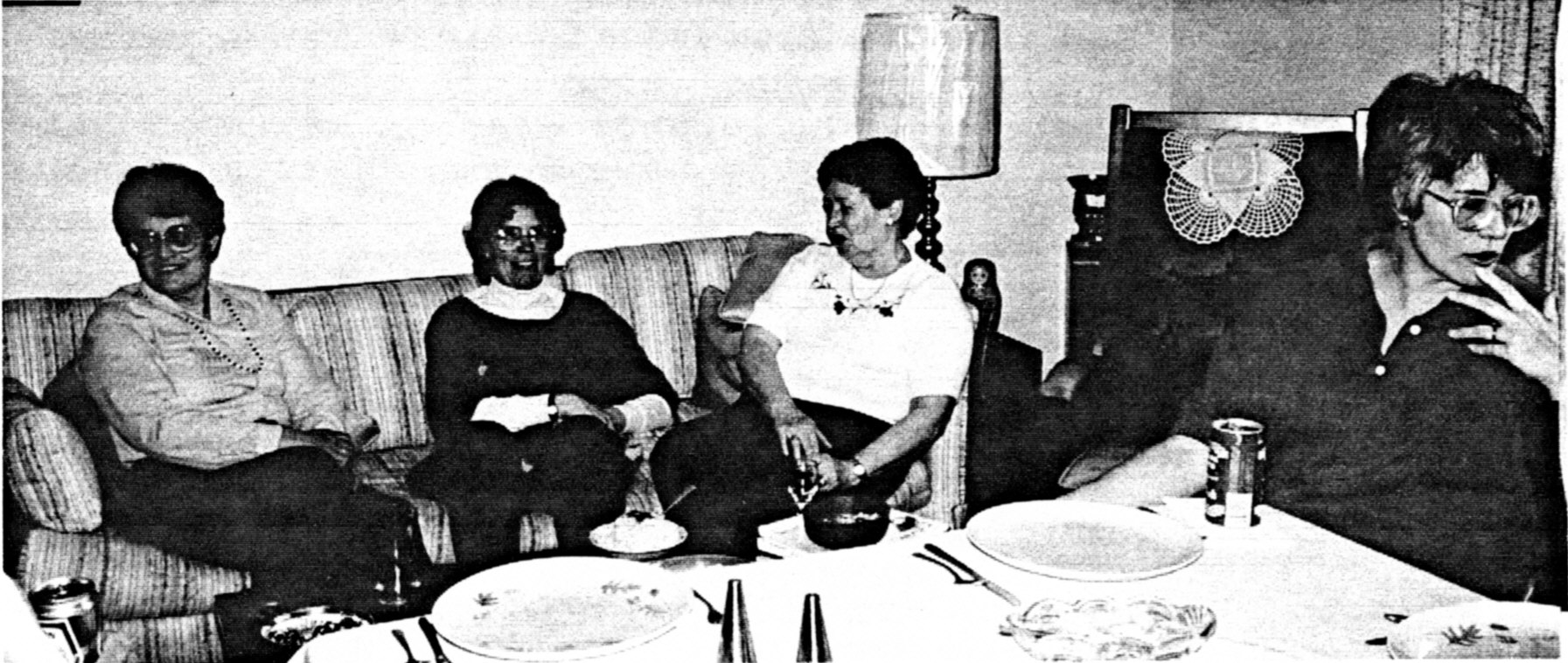 LORNA DAWN ETHEL JUDY
Lawrence Bert Slater (1901), the second son of Charles Sheldon Slater, graduated from the University of North Dakota and for several years was a teacher and superintendant of schools. In 1928 he joined the official staff of the Lions Clubs and served for twenty years, organizing 500 Lions Clubs. Following his service with the Lions Club, he held a number of executive positions in Washington, D.C. He married Doris Ernestine Wilke (1909) in 1930. In their years in Washington they worked together on many projects, notably the National Sesquicentennial Commission which organized the celebration of the 150th birthday of the U.S. National Capital. Lawrence also devoted a great deal of effort to the development of a comprehensive genealogical chart of the Slater and Waite families which has proven to be a precious legacy to many family members. Lawrence passed away January 24, 1960. Doris still lives in Washington, D.C.
Fern Olive Slater (1904) was eleven years old when the family returned to North Dakota. She worked her way through the University of North Dakota and became both teacher and legal secretary. She married Carroll Ernest Day (1906) and helped him go through law school. Carroll became a well known Grand Forks lawyer, businessman and political leader. At the time of his death, he was the State Senator from Grand Forks. He was killed, March 3, 1956, in a crash of his plane in which his son Kingsley and two others died. After the death of her husband and son, Fern became the librarian of the local law school of the University of North Dakota until retirement. She passed away in Grand Forks, February 16, 1983. Their three children were:
Carroll Nichols Day, born March 20, 1937. Carroll has pursued a career in engineering and science, and has three children, one of which we know to be a daughter, Sheila.
Kingsley Slater Day was born March 4, 1940 and lost his life with his father on March 3, 1956.
Dawn Anita Day was born September 10, 1941. She is married to Reuben Cohen and lives in Princeton, New Jersey. She has pursued a career in sociology.
Francis Slater was born on October 9, 1912 and died on August 30, 1916.
THE HENRY WILSON SLATER FAMILY
Henry Wilson Slater (known as Will) was born in Lyon County, Minnesota, December 1, 1874. On March 19, 1899, at West Dora Church, he married Sonia Waite (1880). Sonia was a younger sister of Bertha Waite who was married to Will's older brother Sheldon. Will moved the family to Hesper, North Dakota in 1899; here he remained and became a sucessful farmer, church and community leader . They had six children: Lee, Howard, Lloyd, Vern, Ralph and Edith.
Lee, born July 19, 1900 (died 1929) married Emma Hartwick who was born on November 30, 1905 in Lindsay, Ontario. They had five children: John, Harold, Herbert, Glen and Eleanor.
John was born July 29, 1923.
Harold, born June 30, 1925, was married three times to Mary Singer; Florence Barr and Betty Bell; he had four children: Nancy, Belton, Tykeman and Bruce.
Herbert born October 29, 1926, married Dolores Canziani and they had two sons: David and Dennis.
Glen, born April 10, 1928, married twice, to Naohi Barr and "Dennie" Verdeen Beutow; they had seven children: Donald, Sandra, Brenda, Paul, Dale, Glen and Barbara.
Eleanor, born May 3, 1930, (She was later adopted by Nels and Betty Deanna Olson) married Darrell Asplund and they have four children: Darrell, Noel, Sharon and Lon.
Howard Grant Slater, was born July 8, 1903: his first marriage was to Agnes Neer. Duane Kenneth was born October 18, 1933. Howard's second marriage was to Anna Mosser, born July 23, 1934.
Gary Edward Slater born April 22, 1963 and Richard James Slater born August 17, 1955 and Clark Allen Slater born January 6, 1957.
Lloyd Alvin Slater was born July 2, 1905 and married Doris Ann Nelson who was born on September 4, 1906.
Betty Ann Slater born July 16, 1933, married Allen Olson. Beverly Ann Slater born May 4, 1936, married George Haugland. Alvin Loyd Slater was born on April 24, 1939.
Vern Allen Slater, born January 18, 1909, married Edith Stearns, born November 24, 1904.
Frances Joy Slater, born July 19, 1931 and died August 4, 1934.
David Buxton Slater, adopted January 15, 1953, Osaka, Japan; Japanese name Shigeyuki Hayashi.
Sharon Vernelle Slater, adopted, born September 7, 1954, Kobe, Japan; Japanese name Mayako Shilno.
The Rev. Vern Allen Slater was ordained October 27, 1936 and served in Wisconsin, Minnesota and Alaska. He was a Baptist chaplain in Europe 1944 to 1948. He was recalled to active duty in 1952 and served in Korea for fourteen months and Japan for seventeen months. Their two adopted children are of Japanese mothers and American soldier fathers.
Ralph Carlton Slater, born April 7, 1910 married Emma M. Sundeen, born August 17, 1912.
Ellen Laverne Slater (born April 26, 1935) married Richard Wickes.
Lorna Jean Slater born July 31, 1939, married Roy Wood.
Edith Slater was born October 8, 1912 and died April 1, 1913.
It appears two sons of Henry and Sonia Slater, Howard and Lloyd remained in the Hesper area. In a farm museum in Rugby, North Dakota there is machinery which may have been donated by these fami1ies.